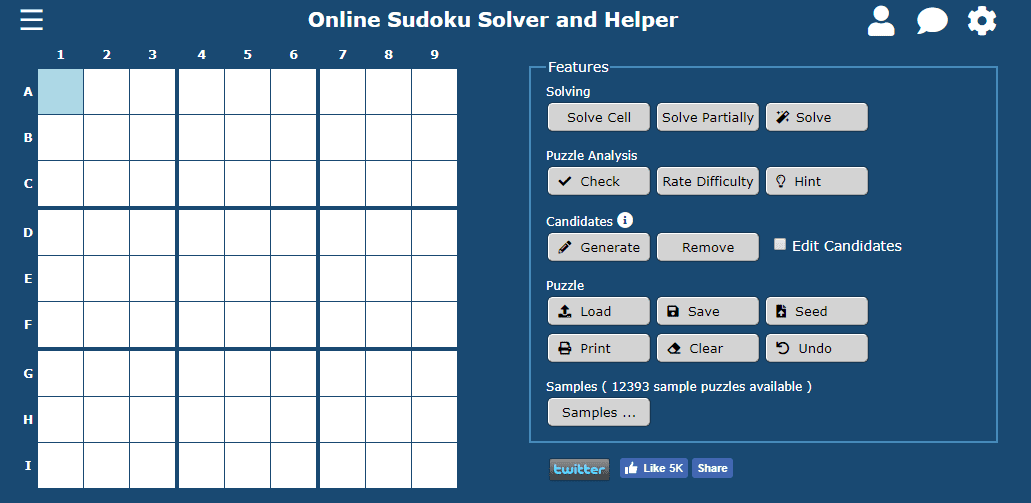 Sudoku Solving Techniques When You Are Stuck | Works 100%
All about Sudoku
The Sudoku is kind of a puzzle came from Japan which is based on the logical number placement. However it doesn't require any special math skills or any calculations, But all you need are brain and focus.
The objective is to fill 9 * 9 grid along with numbers in such way that each row, column and 3 * 3 sections contains all the numbers from one to nine.
Sudoku requires concentration and calm brain in order to solve the puzzle. But I've one amazing technique using which you can easily solve Sudoku puzzle without letting your brain interfering.
As you've come across to this article. Now it's my responsibilities to give you one of the best and effective technique to solve your Sudoku problems.
So without wasting any time let's dive into our technique which is Sudoku Solver!!
Amazing Features of Sudoku Game | Sudoku Reviews
What is Sudoku Solver
The Sudoku Solver gives you lots of features in order to practice and improve puzzle-solving strategies.
First, let's talk about the helper feature of Sudoku Solver which allows you to check whether a puzzle is valid or not.
Along with puzzle checking, it analyses the difficulty level of a puzzle as well. With the help of Sudoku Solver, you will get several puzzle solving hints which will help you to solve the puzzle easily.
Without stressing too much let me give a complete guide about how to use Sudoku Solver to solve a puzzle of any difficulty level.
Easy Ways To Download Sudoku Game For PC | Window XP/7/8/10
How to solve Sudoku? 10 sudoku techniques
So let's get started!!
Step 1: First of all go to this Sudoku Solver.
Step 2: Now simply input the number on the side of the grid first. Now click on the cells where you wish to place the selected number.
It also has an option which can Generate Candidate values for all empty cell of the puzzle.
Step 3: After entering a puzzle, you'll see three buttons under 'Features' category namely Solve Cell, Solve Partially and Solve buttons.
Solve Cell allows you to get the solution of a particular cell of your choice in the puzzle.
If you don't want to solve the complete puzzle you can click on Solve Partially button to solve a selected square of the puzzle.
In case you want to solve your puzzle instantly, you can do it by simply clicking on the Solve button.
It's your choice you can select from these three solutions based upon your requirements.
Step 4: In case you wish to go through sample puzzles, click on the Samples button at the bottom of the features section.
Top 5 Puzzles Games Ever For Android And PC
Once you have saved your puzzle. It has a great feature using which you can save your solved puzzle easily by just clicking on the Save button.
One of the best features of Sudoku Solver is that it gives you a way to solve your puzzle partially or solve a single cell. You can solve a puzzle completely as well.
It also has the great feature of checking if the puzzle is valid or not and checks if the puzzle has a single solution.
Sudoku Solver displays difficulty rating for your remaining unsolved cells of the puzzle. Difficulty ratings are based on the techniques needed to solve the puzzle logically.
You can request a hint to help you solve the puzzle. A hint will either identify a cell which can be solved or one or more cells where candidates can be removed.
The Sudoku Solution also provides solvers for Word Sudoku, Shi Doku, Roku Doku, Sudoku (8 by 8), and Max Sudoku as well. It's one the best Sudoku Solver out there on the internet.