PDF is the contracted form of portable document format. PDF holds the documents like printed documents. PDF is compatible for all devices such as Android, desktop and you can send it anywhere you want. It is the best tool for businessmen as they can post important notices in PDF form on the companies website. You can convert your files into PDF and can share among multiple groups and peoples with the help of pdf converter. Pdf carry a proper description of a document with text, fonts, vector graphics, images and required information for displaying.
If you are an entrepreneur and wants to manage all your documents then you must need some PDF converter software. This software allows you to edit, convert, manipulates and lots more with your documents. You can exchange your sensitive information with reliability on different devices.
Best 7 Free PDF File converter software for Windows
According to your need, you have to choose a PDF converter wisely. You should go for one which fits best to your document management requirements. There are a variety of PDF converters which helps you to create PDF and also modify it into numerous format With them, you can easily convert your PDF file in window based devices. I have made a list of the best converters so take a look below to be aware of them.
 Soda PDF Pro+OCR
If you want to transform your PDF into different formats like word, excel, power point, HTML, RTF etc then Soda PDF pro is the best choice for you. You can also create PDF with it. It permits you to make PDF from Microsoft office document, blank files and from old PDF files.
 Nuance Power PDF Converter
Come to another PDF converter known as Nuance Power PDF. This software also promotes the converting process of PDF files to word, excel, power point, plain text and Rich text. It has the ability to change Microsoft office format to PDF format. With this, you can take a sight on all your PDF files to manage them. Nuance is not only a converter but also an editor. You can reshape and can fill PDF forms on windows.
It also allows you to do a comparison side by side when you see files. It is considered one of the best converters for windows 7, 8 and 10.
Icecream PDF Converter
Icecream PDF converter comes with various features like largely accessible file types, unique interface and series group conversion. It is one of the best converters throughout. Icecream converter has the ability to reserve PDF in  DOC, DOCX, JPG, PNG, or HTML format and deal with up to 10 pages at a time.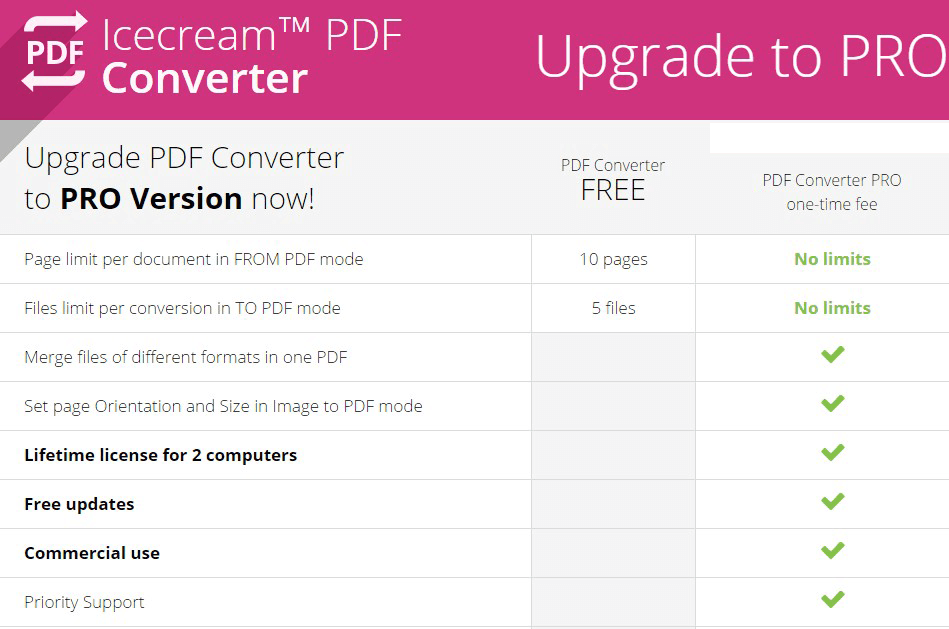 With it, you can split multi-page PDF in various documents instead of one huge file. Also, change a few sheets from a bigger document. You don't need separate PDF printer driver for making PDF with it. It can transform files in every available format with elective password security and customizable metadata. Its paid version also available with specific features but for me, its free version is more than enough.
 Foxit PhantomPDF Standard
Foxit PhantomPDF Standard is also the right choice for converting files into different PDF formats for windows. This software permits you to change PDF to powerpoint, Excel, Image, Word, RTF and TXT layout. It is also capable to make PDF files from blank files, clipboard, PDF portfolio, outlook and powerpoint.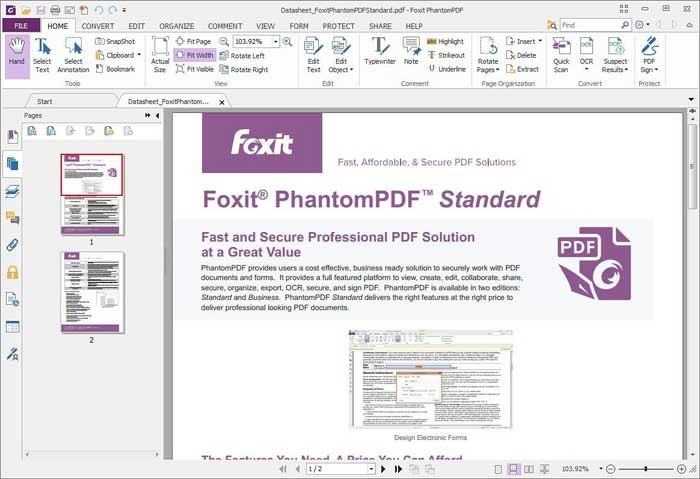 This software can also elucidate, control, allot and comment your PDF files. It is the most reliable software for adding digital impression to your PDF. you can also restrict access to your PDF. It allows you to modify PDF and amalgamate PDFs. Foxit can inspect image-based files and can modify on the desktop.
Docufreezer
Let's discuss another free online PDF converter for home use. This is not good for commercial use. It allows you to group PDF conversion with no sheet limit. It is attributed with bunch processing mechanism which permits you to manage a large number of folders and images at a single time.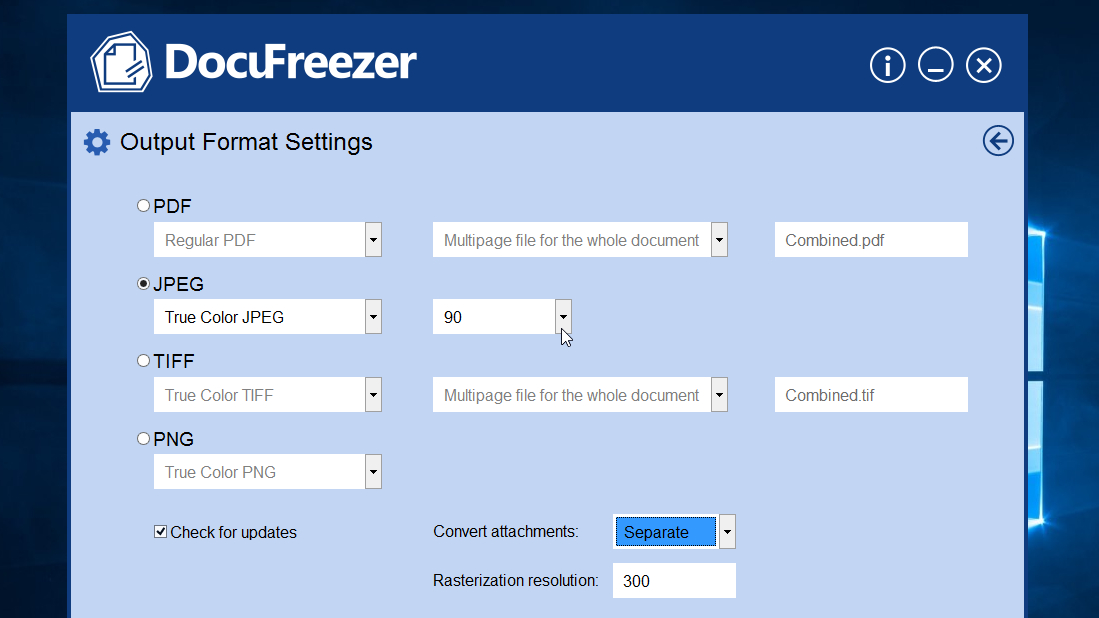 Docufreezer is able to convert PDF into famous images layouts like JPG, PNG, and TIFF. Some more features are included in this and you can change text documents, spreadsheets, and presentation to JPG format. It helps to make your PDF ideal one to be uploaded on any website.
Docufreezer saves your time as you can choose the color setting for the modified files. Thus it is a great choice for non-commercial use.
 PDF Converter Pro
Another suitable suggestion from us is PDF Converter Pro. This is basically designed for PDF conversion. It has the ability to change any PDF, no matters it is locked, unlocked, or scanner PDF in various formats like word, image, Excel, Powerpoint, HTML, and texts.
It is the best software for partial conversion and it allows you to pick sheets you want to change to any desired format. It also permits to the bulk conversion of your PDF files. Easy to use interface and compatible with Windows 10, 8.1, Vista and XP.
Nitro Pro
Another multi-tasking PDF converter software is Nitro Pro. It offers almost all common consequences on PDF documents. It converts documents and various files into PDF. Its most amazing feature which differentiates it from others is its outlooking plugin. With the help of this plugin, you can sync all the conversion consequences to all your accounts. With this, you can directly change the content of your emails and email folders without downloading the documents.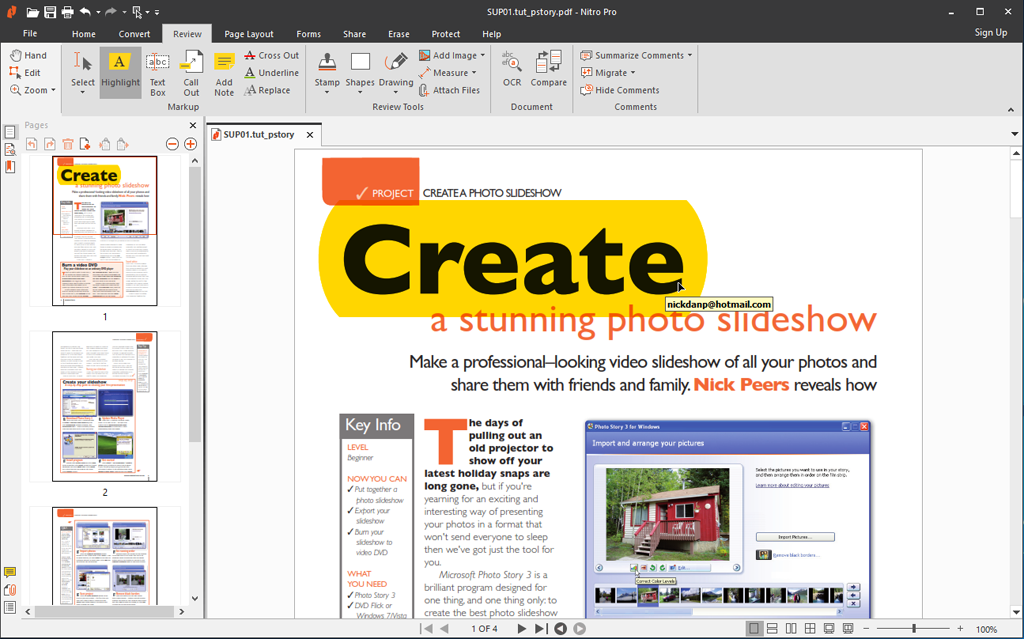 Its OCR feature allows you to upload your scrutinize PDF for converting into Word, Powerpoint, and Excel. Nitro Pro also has cloud support.
Are you interested to know the security issues related to pdf files? Here is the solution. Steps to apply password protection to your pdf file.
Well…I have described the best 7 PDF converter software according to your requirements. All the converters have specific features. Was this article helpful for you? Comment below and if you want to know about any other PDF converter which not in our list, asks us. Also, share your experience if you ever used any of these converters.