Writing is a skill. With proper writing tools and software, you can further enhance your writing skill. No one can deny the usefulness of a tool that is specifically crafted to reduce the noise and leave you with your thoughts and words on the paper.
So, in this article, we will share with you about iA Writer. The tool is well-known for :
"It's just you, your thoughts, and the words on the page".
iA Writer
iA is a simple text editor whose primary purpose is to keep you focused on your thoughts and delivering them on the page. With its typical layout with monospaced and duo spaced fonts.
If you need a clean, easy-to-use, and diversion-free environment then this is the tool for you. By this, you can focus on your writings as well as writing skills and show your utmost creativity on your document.
The app has more than 10K downloads with an average rating from 2.5 to 3. It will not take much of your memory as it is of 17Mb but you might be thinking that why is rating between 2.5 to 3. Keep Scrolling 🙂
Also, Read: Photoscape X Photo Editing App Download for IOS
iA Writer: Features
These are iA Writer key features that will definitely bind you to use iA writer. It will further enhance your writing experience with its numerous in-built attributes.
Whether you are a student or a writer or your job requires writing material then you must give it a try. It is basically well-designed to improve and intensify your writing.
So, have a look at the iA Writers features:
Simple to use:
Writing with this is extremely easy and simple. It has no rulers and no formatting bars. Moreover, it offers you features from Content Blocks and also allows you to do Syntax highlighting.
Also, Read: Online Platforms Help Traders Hit by this Year's Cancellation
Supports all Platforms:
My job is to write, write consistently. Sometimes due to urgency, I have to write in the phone but the well-known writing apps such as Scrivener and Ulysses don't support Android and here it creates a great problem for me.
Then I searched for the alternatives and got familiar with iA writer, no more hassle. Now, I can write on any platform as it supports all major ones like Windows, macOS, iOS, and Android.
Ownership and Control:
The author should own its writing tools or apps if he wants to be comfortable in writing during both the modes offline and online. Once you download it, you own it.
There are no obligatory subscriptions, no compatibility issues with no microtransactions. "It's your work, your documents, and your tool and app".
Also Read: Motionleap (Formerly Pixaloop) | Quick Features, Effects & Step by Step Guide
Flow with Concentration:
Concentration is a key for effective writing, this is what drives iA Writer. It helps you to write with the utmost focus and customized settings and shortcuts will further increase your flow to write efficiently.
Eye-Friendly:
If you are looking for an app or tool that will take care of your eye then for this also iA Writer will work for you. It has a light-on-dark-mode, that is ideal for day and night working. So, don't worry about the eye, do your work freely.
As per your convenience:
Whether you want to buy or subscribe, it's all up to you. There are various upgrades in the paid plan where you can choose between subscription or owing to the app. Both will make your writing journey smooth and effective.
Check your Syntax:
It will highlight and spot all the flaws of your text. This includes unnecessary repetition, weak verbs, extra adjectives, and many more. It has a long list that will spot and help you write engaging content.
Content Blocks Available:
With this, you can express your words with visuals. You can add sections, media, tables, images, and flexible building blocks of the text. You can even merge separate chapters into one main file or you can say master file. Now, it is super easy for you to add any graphics to it.
Typing Styles:
For innovative writing, it provides you 3 typefaces:
Classic Mono,
Duo for Larger screens, and
Quattro for compact devices.
All of these will increase your writing experience and help you in essay writing too.
Even, refer to 10 bible apps for android that gives you whole new experience.
Side-by-Side PDF View:
Now, you can view paginated PDF side by side while editing your text. No need to make extra effort to view your PDF, simply click on the button, and the document will convert into a PDF. Then preview it, it will show how your document will look in the PDF.
Markdown to Word Export:
It offers you a modern mark-down feature that is available everywhere. By this, you can convert all your mark-down to the word. These can be Markdown tables, images, and notes. All will work for it.
Original Focus Mode:
The company claims Focus Mode was first introduced by them in 2010. Since then numerous editing apps have copied their Focus Mode option. But still, they said their original is one of the best.
This mode will help you to concentrate only on the paragraph or sentence you are writing. It will increase your writing ability and content engagement.
iA Writer: Supported Platforms:
Whatever model you use to write your articles or your fictions, all types of platforms are supported by the iA writer. It assists you in all these devices: Windows, macOS, iOS, and Android.
Also, Read Pixaloop Review | Quick Features, Various Effects & Step by Step Guide to Use It
iA Writer: Pricing:
It costs you different for different platforms. Here, is a list to help you out: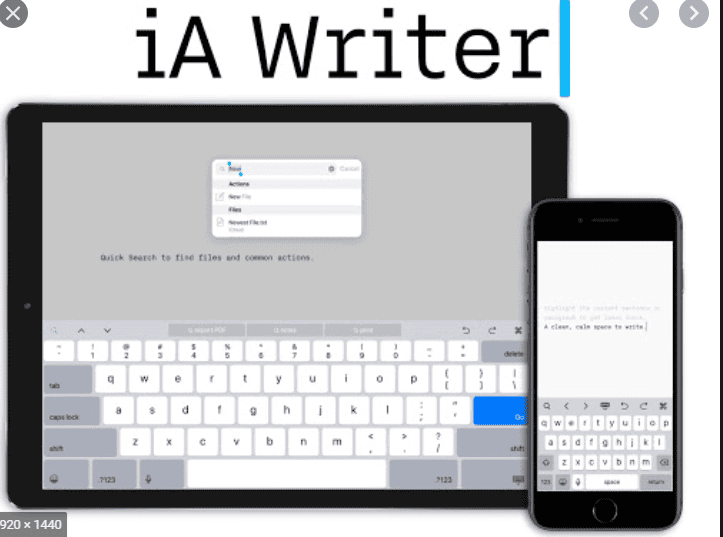 Android:
It gives you 30 days free trial. After that you can go for, any plans:
Yearly Plan: $4.99/year
Once for Lifetime: $29.99
iPhone:
No free trial for iOS and iPadOS and you can get this app for $29.99.
Windows:
For Windows, you get 14 days free trial, and will cost you $29.99.
macOS:
For mac also, you will get 14 days free trial, and will cost you $29.99.
Also, Read Solid Explorer Review | File Encryption – Rich Cloud & Network Functionality
Why iA Writer is Having Rating of Just 2.5-3 Star?
See, it's very important that if you give any functionality in app, it must run smoothly. I will like to give you 2-3 users reviews about iA Writer:
Ovidiu gave 1 star out of 5 and said:
"I've lost notes when I went out and closed the app, I edited notes and when I checked later the edits simply weren't there anymore and it had reverted to a previous version – and no, this time it didn't even save a copy, as I occasionally does when it fails to sync. It occasionally crashes when I delete or rename notes. Overall, it's a nice, elgant app but it's extremely buggy and I just can't handle it malfunctioning unexpectedly and causing me to lose information, time and work."
Jake Brown also gave 1 star rating out of 5 stars and said:
"I used this app every day. I even purchased the desktop version I love it so much. I had to factory reset my phone, reinstalled the app, and now it doesn't link to my Google Drive. Its useless. My entire work flow is broken. Something I loved, enjoyed, depended on, and even made a purchase for, has been lost and I'm being asked to purchase AGAIN to use on mobile. Absolutely wrong, corrupt. Money grab."
However, there are lot of good reviews too but take precautions while using iA writer. Undoubtedly, app is good but with the limitations.
Let us know if you want iA writer alternatives and we will be get back to you.
iA Writer: Download Links:
You can directly download from the official website or you can download from Google PlayStore or the Apple app store. If you want effortlessly downloading then you can download from here. We have mentioned download links for each platform.
Android: Android Download Link
Windows: Window Download Link
iPhone: iPhone Download Link
macOS: Mac Download Link
Using these links, you can download the iWriter for your device.
Final Words:
Here, is a detailed guide for you relating to iA Writer that will help you to write easily and smoothly. It has numerous features that make the app perfect for the authors. Not only this, it also provides a free-trial on three platforms. You can check the free-trial then you can go for the paid one.
For any query relating to iA Writer, comment below. If you have any suggestions then also share with us. Your suggestions are valuable for us.
Frequently Asked Questions:
1. Is iA Writer free?
Ans. It is not free but it provides you free-trial. It ranges from 14 days to 30 days trial, depending on the device chosen. If your free trial suits you need then you can go for the paid version.
2. How much does iA writer cost?
Ans. It is different as per the device. We have listed the cost according to the device, you can refer to that in the article.
3. Is it worthful to use iA writer?
Ans. Yes, with respect to the features you can say that the app is effective but the average rating of the iA writer revolves around 2.5 to 3. By going through the iA Writer description, you can decide its effectiveness.
4. Can I access iA Writer on iPhone?
Ans. Yes, you can use iA Writer on your iPhone. There is no hindrance to the platform for the iA writer users.