"There is music in the air, music all around us; the world is full of it, and you simply take as much as you require."
Big fan of music!! Especially, listening to offline music…..Having hundreds of music folders. Then you just need a powerful music player. Isn't it?
So, to help you we are back…this time with one of the best music players- Poweramp Music Player.
In this article, we will unfold all the everything about Poweramp music player along with all the recent features of the player.
Poweramp Music Player:
Poweramp music player is the oldest yet most downloaded music player on Google Playstore. The average rating from the reviews is 4.4 with more than 50M downloads.
Initially, it was not in glare but the recent update has added numerous features in it which is widely appreciated by the audience.
It has more than 100 features, which makes it one of the best music player for all offline music listeners.
Furthermore, if you prefer listening to music from different formats then this app should be your topmost priority. It is an ideal platform to enjoy music from well-rounded platforms.
Want to share only self-captured gameplay with your friends without using different apps then GameOn will definitely help you. With this, you can capture your gameplay and live-streaming videos without any trouble.
See More: 
Poweramp Music Player Features:
What makes Poweramp special and outstand from other music players? You all want to know. Isn't it? Here, is a list of attributes that Poweramp Music Player provides you:
Supports all major formats:
All the major formats are supported by the music player such as mp3, mp4/m4a (incl. alac), ogg, wma, flac, wav, ape, wv, tta, mpc, aiff; V3 also plays opus, DSD (dff/dsf), mka, tak, flv (audio)
Google Assistance and Chromecast Support:
Poeramp Music player is fully supported by the Google Assistant and Chromecast. All your music wishes will be fulfilled by the music player with the help of this support.
High Audio Quality:
This is the primary thing which we check before buying any audio player? Right…
Well, the music player has good quality audio. Moreover, it uses its own audio decoders so the quality of the sound is consistent for all the devices. So, don't worry about the audio quality, you will not be dissatisfied with its quality.
Advance Features:
Other than all of the above it provides Powerful Bass and treble adjustment with stereo expansion, mono mixing, and balance.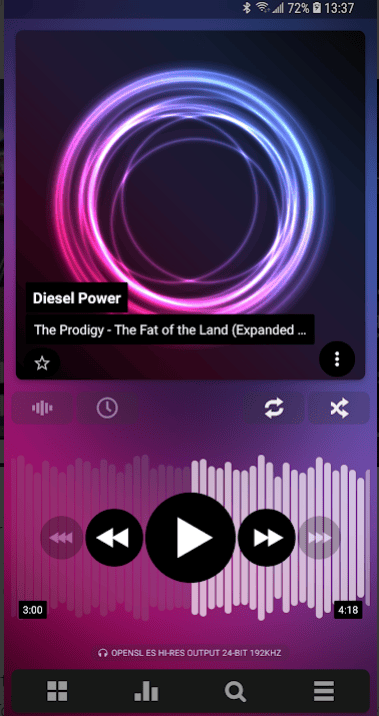 Tempo control and Reverb Effect:
Poweramp Music player provides you these effects also.
Internal Format:
Loat32 internal sample format, Float64 DSP processing, up to 384 kHz sampling rate, selectable SWR/SoX resampler, multiple dither options, various per-output settings.
Output Level:
Provides you Direct Volume Control(DVC) so that you can get a long dynamic range with deep bass, crossfade, and replay gain.
Volume Levels:
Their volume levels are available like 30/50/100 and complete audio processing details are available.
User Interface:
If you want to add third-party skin then this audio player can solve your problem. Along with third-party support, it has multiple skin options under the name Skin Author Milkdrop Compatible Visualizations, art downloading with per-category user-selection images.
Attachments Support:
It provides you different attachment supports like headset support, automatic Resume support, and connection options lyrics support.
Languages support:
Poweramp Music Player is familiar with 29 languages and is equally localized to them.
Customization Facility:
You can even customize it as per your needs. All this you can do with the help of various settings options.
The list is too long, we have tried to mention all the major features that outstand the Poweramp Music Player from other Similar music players. Do share with us, which feature you like the most and the reason for the same.
Before moving ahead to the download links, pricing, Let's check the user's experience to gain accurate information about it.
Also, Read Solid Explorer Review | File Encryption – Rich Cloud & Network Functionality
User's Experience:
Sakpak Raj:
Most of the people are very fond of music and songs, have a good phone, good earphones or headphones, but can't customize the audio settings due to a stock music player. This player POWERAMP is very powerful in terms of equalizer and features. The layout is good, the features are great, though some people might not like the style of the player as it lacks some animations and cool effects, I think it's worth listening to music.
Raghav:
This music player is an awesome and powerful application. You can play music very loud than your original player. You can set bass, treble, stereo. The most interesting fact about this app is that when you plug in your headphones it automatically plays the song. You can increase the volume of your phone. It converts video songs to audio songs. If anyone wants a music player for their mobile I would them to download Poweramp.
Sharjah:
Comparing to my default Music player, it has indeed some great features and functions. But the sad part is, this is only a trial version for 15 days. Since it has many features and functions, sometimes it appears very confusing to select the kind of setting I really wanted. Overall it's a good music app to go with. Enjoy listening.
Freuckk:
I share my bad experience with poweramp music player. When I install it then I found that the music player theme is good and it plays background also but one of the most important things that there is some file format which not supported like(wav, lower range MP3 etc) these are not working.
So, from all the above you can take your decision, no doubt one-two are not so positive but the creators are working consistently to remove the bugs for the best user experience.
Also, Read Pixaloop Review | Quick Features, Various Effects & Step by Step Guide to Use It
Poweramp Music Player: Supported Devices:
Poweramp is officially made for Android phones and it only supports Android. The music player is extremely, famous for Android phones but you can also get this player for windows by using Android Emulator – bluestack or by MEmu Player.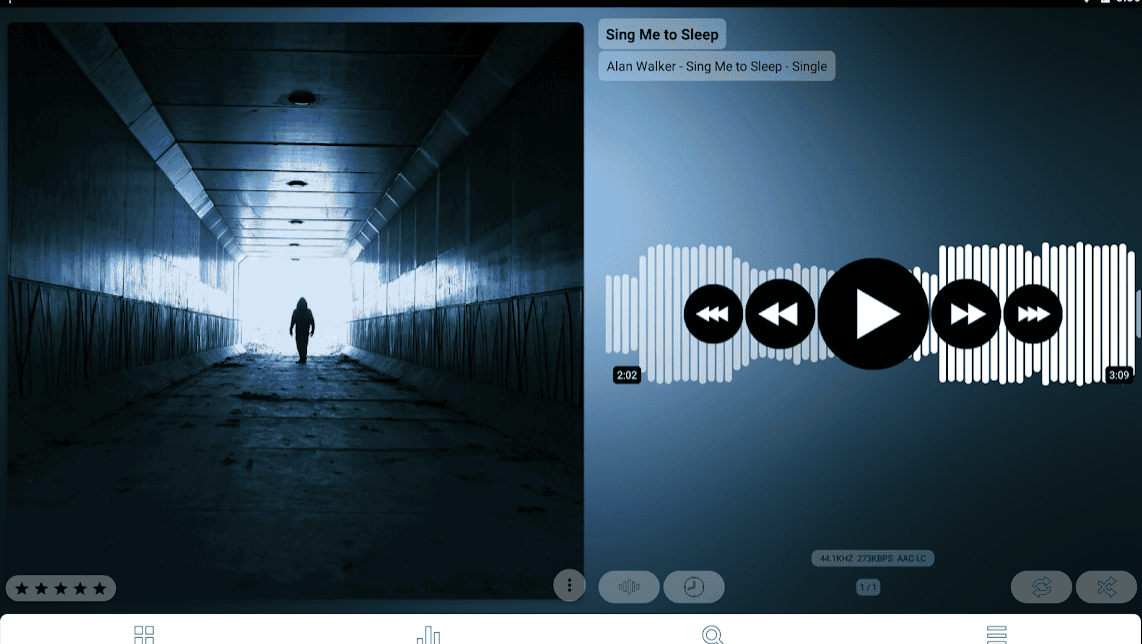 If you are an Android user with an offline music admirer then you must try this app. Don't forget to share your experience with us. It will help us with a detailed analysis of the Poweramp music player.
You can avail of its services on Android and Windows.
Poweramp Music Player: Pricing :
If you want to use this music player, then you can use its free as well as paid version. For the premium version, it is paid but it offers you 15 days free trial to select to check its worth and if it suits you or not.
We recommend you first go for a free trial then invest in the player. By doing this, you will be sure about the Poweramp Music player. In case, it doesn't compatible with your device then you can skip it.
Also, Read MongoDB vs PostgreSQL | Database Management Systems
Poweramp Music Player: Download Link
Android Users:
For all the Android users, you can download the music player from the Google Playstore or from the Poweramp official website. You can even directly download it from here: Poweramp Player Download.
For Windows:
No direct download link is available for Windows but if you want to use on your PC then you can do this with the help of an Android Emulator. To do so, simply follow the instructions:
Firstly, download Bluestack latest version from their official website. But before that adhere that your PC has enough space and your OS is updated so that Emulator can work properly.
Once it is installed, sign in to your Google account, or if it's not working then create an account on it.
If you are done with all of the above, then go to the Google Play Store and search for the Poweramp for Pc. Once you find it, click on it and install it on your PC.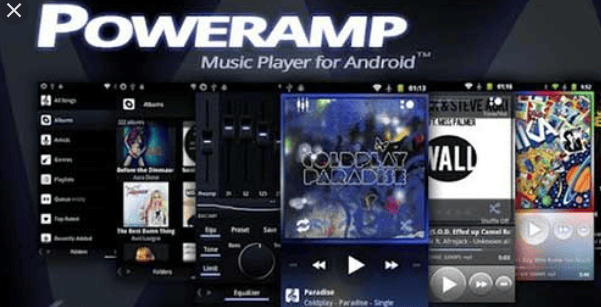 Do you know there are also 3D Emulators that help you to easily play your games on a PC without using a console? Here, is a list of Best 3D Emulators with their best key-features that you must know about them.
You are done.
If you are unable to install using above-method then you can alternate method, which we will be telling you to download:
First, download the MEmu player on your PC.
Then download Poweramp APK mode from Poweramp official website.
Now, click on the APK on the MEmu emulator then click on the Poweramp APK, then wait for the installation.
You are done.
Final Thoughts:
Poweramp is a complete solution for those who prefer listening to music offline and want to create audios of them. You can even share your created audios with your friends and family.
Moreover, the free trial further helps you to get a deep insight into the features of the music player. If you have any query related to the Poweramp music player or any other music player, write to us in the comment section.
Poweramp Music Player | Frequently Asked Questions:
Is Poweramp music player free?
No, Poweramp Music Player is free and paid. With premium features, it is a paid music player. But it offers you 15 days free trial to be sure of its features, you can choose to try for free for 15 days. Once you are sure about it, then become a paid user of it.
Is Poweramp music player worth buying?
If you consider its audio quality then it is definitely worth buy. It is compatible with all the devices and audio quality is similar to all of them. Although the interface is not highly good looking, you get different skins for free with third party-support.
How to Buy a Poweramp music player?
To buy the Poweramp music player, follow the steps:
Go to the Google Play Store.
Check the buy link and once you click on the link- a form will display then fill the form and mention your card details and email. YOu bill be received on the email address you mentioned.
If you are facing difficulties with it then use the Redeem code, if you don't have it then you can also buy from Google Gift Card.
You are done.
What devices are supported by the Poweramp music player?
It is basically an Android music player but with bluestack you can even you use it for Windows.
How do I disable visualization in the Poweramp music player?
You don't need to disable it, by default you get it disabled from the creators. But you can enable and disable it as per your convenience.
You can do this by pressing the first left button in settings or undercover or in the visualizations.
My songs are missing from the folder, What to do?
In this firstly ensure that all your folders with music are in Music folders, poweramp settings. If it is not then add them.
Does the Poweramp v2 purchase include the Poweramp v3?
Yes, it includes.