Undoubtedly, Fallout 4 is one of the most ambitious games and comes out to be the next-generation game for all the open-world gamers admires. Isn't it?
Some gamers feel stuck in the game, and some aspire to fulfil their desire and looking forward to modifying the game as per their imagination.
Commonly, Fallout likers are looking for crafting, visual improvements, gameplay enhancement, weapons and gear, a new adventure, and many more….
If a similar type of contribution you will do for Roblox game, you could earn alot – means you have an option to "play & earn". Also, Check out the 30 amazing facts of Roblox Game!
So, if you are a Fallout admirer, especially looking to make all the above changes in the game, then you are on the appropriate stand. Here, we will be mentioning the top and well working Best Fallout game mods that we have specially picked for you.
Well, get ready to change your game technically, contextually, and visually. Let's Dive into it.
Best Fallout 4 Mods:
A plethora of Fallout Mods are available; every mod has something unique to offer. Every mod has something special for you to enhance your game in one or another way.
Already stated above, you can enhance visuals, add content, and fix the fallout.
So, Let's start with the Mods that increase the Visuals of Fallout.
Mods that Make your Fallout Game more ravishing:
Here are mods that enhance visuals while playing this game.
Vivid Fallout:
If you are looking to beautify the surroundings of Fallout 4, then Vivid Fallout is the one for you. It will enhance the textures of numerous landscapes such as trees, rocks, and roads, bridges.
Vivid Fallout will change the contrast intensity resulting in glorified Fallout. It is a must-have mod that is suitable and easy to use.
If you play games, then you might be knowing about Shadow Fight, or you might have played it. After 1 and 2 Shadow Fight, now Shadow Fight 3 has arrived, offering better graphics and gameplay. To get a deep insight into the game through our recent article, Shadow fight 3 Mod Apk 1.22 Latest Version for Unlimited fun.
Fallout 4 Cel-shaded:
Surely, the semi-realistic style of Fallout is elegant, but it is hideous often.
Are you fed with the paradoxes? Are these inconsistencies are frequently annoying you? Then Fallout Cel-shaded is one of the best solutions for you. Moreover, it works well with other mods that retrofit filter over everything. Do try this mod and share your thoughts with us.
Enhanced Wastelands:
One of my friends regularly plays the Fallout game. Initially, she was glad about the wasteland appearance, but now she feels the wasteland is washed out. She always complains to me about this. To help her out, I searched for her…and here I am with the Enhanced Wasteland.
This mod gleams the wasteland by adding a vibrance to the wasteland environment. Furthermore, it provides various other options and settings that will help you to make your game good-looking. Consider below wasteland:
Simple Green( ANDREWCX):
Who doesn't like greenery?….I think no one. A colorful environment gives more positivity. Isn't it? So, Simple Green will help you to attain greenery in your Fallout game.
As the name suggests, Simple Green adds more greenery to your wasteland. It provides new life to your wasteland with elegant foliage.
Moreover, the most eye-catching thing about Simple mod is that it fills the dead portions of your wasteland with vegetation and greenery.
Likewise, Fallout mods, Stellaris mods are also available that will improve your gameplay and visuals. To know more about Stellaris mod, you can refer to Don't Miss this Detailed Information on Best Stellaris Mods.
Best Mods that will fix Fallout:
Before we move further, let me clarify that these mods will not extremely affect the game but will improve your life in the game.
Let's dive into it:
Unofficial Fallout 4 Patch (ARTHMOOR):
This unofficial Fallout 4 Patch is more helpful than the official patch mod. It will improve your life, and even if you haven't played the game for several days and hours before this mod, you will not see a huge difference.
No Build Limit ( STORMLORD) :
It is exactly what it sounds….no limit to the building. Firstly, the mod runs on a single script, and then it will unlock all your building limits. In short, your settlements have no limit to the building. Simple install it and start using it as per your convenience.
B/w The topmost game Fortnite is also facing so many rumours these days- Is it shutting down or pulled from the store. So, if you want to get honest details about the news, then you can refer to Is Fortnite shutting down or being Pulled from Play Store & App Store?
Best Mods that add Content in your Fallout Game:
Modern Firearms (IDLESHEEP) :
This mod will help you to add wealth to your game. With this, you can flourish yourself with real-world tactical weapons. But these weapons are not handed over to you outright. You have to buy these weapons from the traders for a huge amount of bottle caps.
If you don't want to pay, you can hunt for these weapons from the enemy's territory. After you acquire these weapons, you can easily win the game as it gives extra power to you and your fight.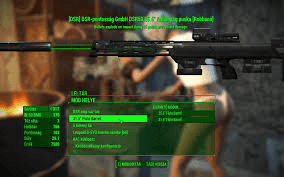 Also Read: Breath Of Wild 2 Latest Update | The End of Rumours
NCR Veteran Ranger (UNOCTIUM):
If you are seeking classic New Vegas cover armor, then NCR Veteran is the one for you. But you have to work for it to gain. You can even find this armor at the Diamond City for a couple of hours.
This mod is good for the early game, adding more adventure to it. So, you are free from the goofy free leather pieces. If you are a beginner, then this mod is best as it perfect for early game and will definitely relish you.
NVIDIA's Vault 1080 (EXOODUST13):
Exploring for questline mods, then NVIDIA's is the one for you. No doubt, there are plenty of questline mods available, but NVIDIA is the one if you want to start effectively with these kinds of mods.
This mod will be offering you unique side quests. Moreover, it allows you to add unique items, fully voiced companions. Through this mod, you will explore new and massive storylines. Share your experience in the comment section about this mod.
Feeling stuck in the Risk of Rain game and seeking for best mods that will help you to win the game easily, then our article on Top 10 "Risk of rain 2" Mods to Upgrade Your Base Level Game will help you.
Summation:
Fallout 4 is one of the best action role-playing game that gives you a relishing experience. Players of the game want to add more functionalities, and that further increases their experience. So, using mods is one of the best ways to fulfill the desire in the game. We have listed one of the best Fallout mods that will increase the visuals and the content in the game.
You can choose any of the mod as per your convenience and share with us which mods suit you. If you find the information useful, do motivate us with your encouraging words through the reference section.