If there is one game that can keep you wondering even though it has everything in front of you, then that is the new Firewatch Game. The Firewatch Game reviews have basically ranged from stunned users to absolutely them loving it.
So What is Firewatch?
Imagine a game where you are the first person going through a mystery socked game. That is what Firewatch is. It deals with issues like Dementia, Love, loneliness and so much more. Developed by Campo Santo and in turn, published by Campo Santo and Panic, the Firewatch game reviews have been soaring.
Released in February 2016, it is compatible with MS Windows, OS X, Linux and also PlayStation 4. And not forgetting in September 2016, it is also available for Xbox.
The Firewatch Game Review Mania
If you are looking for an escapist experience similarly to books then Firewatch is the game for you. With amazing art direction, solely on a voice cover with excellent and epic timing, this game takes you through the whole thing, as a book does.
It is a solo journey through solitude and its exceedingly easy navigation makes the Firewatch game review even more worthy.
The most vital and most artistically curated designs are what Firewatch a must played adventure. With each time of the day being a new chapter, you get to choose your journey by playing the main character.
It is as simple and meeting someone and falling in love and going through life's punches. It's the smooth and stylized designs that draw a calm picture of the American outdoors.
Firewatch Features | Mystery Explained |
The Firewatch game review is almost incomplete without talking about the extremely well-designed features. Being a solo journey and experiencing the game there are many clues and references throughout the game.
Firewatch managed to get such a huge fan based hooked just by making you ignore the reference by just putting it in front of you.
For example,
The Pork Pond Sign Mystery
The Firewatch game review can't go on without this obvious yet oblivion part.
SPOILERS ALERT*
The part where Henry gets to the Pork Pond without even knowing and asked Delilah where they were. Delilah had said they are at Pork Pond, but Henry pointed at the absence of the sign.
Delilah had replied by saying that people just kept stealing it. Isn't it funny how Delilah ended the conversation by saying that the Pork Pond sing was a god damn good one and would look good over the den or any other place?
Yes! Well.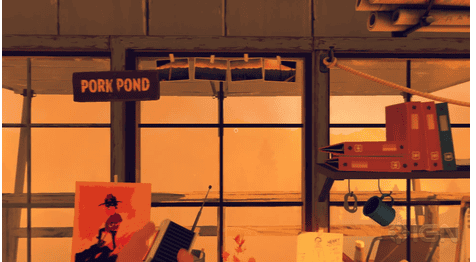 Right nearing the end of the game, as you walk into Delilah's watch tower, you see that exact sign hung right up.
She took it!
See More:
The Alternate Ending
This is rather dark, so I would suggest my readers get the scary blanket.
Right up to the last two minutes before the game's finale, you can see Henry waiting for the rescue chopper to take him up from the engulfing fire.
What if Henry was left right there in the engulfing fire to die?
Well, that is the assumption of many fan internet buggies to make sense of the very mysterious and rather confusing finale.
In the end, Firewatch is nothing less of majestic storytelling with fantastic graphics and designs. It takes you on a compelling journey of discovery.
Even in the finale last moments, the revelations and cliffhangers are artistically portrayed.
I hope you found my Friewatch game review worth your time and don't forget to leave your comments below if I have skipped any myself.