Samsung galaxy watch has launched a very cool and new feature which tracks your sleep and body's vital processes.  Are you also a Samsng galaxy watch user? And wanted to know how to set up the watch. The article provides you a detailed study about the How to use sleep tracker on samsung galaxy watch, and setup for the sleep tracker, pairing, and installing the samsung health app.  
How to use sleep tracker on samsung galaxy watch
The accelerometer (motion sensor) in your watch is utilized in conjunction with Samsung Health's proprietary algorithms to detect if you are sitting or standing, or taking rest. Along with this, Samsung health has added so many watch sensors, including the heart rate and SpO2 Sensor. Sensors easily detect the more comprehensive sleep data. 
The BioActive Sensor, found only in the Galaxy Watch 4 and 5, is Samsung's way of combining three of the most cutting-edge health sensors (Optical Heart Rate, Electrical Heart Signal, and Bioelectrical Impedance Analysis) onto a single chip. And it is helpful in monitoring your heart rate, blood oxygen levels using this bioactive sensors. 
Set up for sleep tracking using the Samsung Health app
Here, you have to check that your sleep tracking device is properly working if you haven't already checked.
For the Samsung Galaxy Watch to work, it must be connected to a suitable mobile device. Whereas sleep tracking can be helpful when it is paired with a smartphone, that can store your data for weeks or months.
To pair your Galaxy Watch with a smartphone: 
First, you have to download the Galaxy Wearable app on your device i.e android or iOS.

Turn on the Bluetooth.

Now, Launch the Galaxy Wearable app in your samsung galaxy watch.

Here, you need to select the Galaxy watch option and simply follow all the on-screen instructions.
Install Samsung Health app
To use the Samsung Health app on your watch, you have to pair the watch with the phone and here you go, now, the watch has started tracking your activities using the new technology and sensors: 
Turn on automatic heart rate monitoring
To turn on the heart rate monitoring sensors, you need to activate the Samsung Health Programme. 

Simply scroll it down and click on the : Heart Rate" button. 

Here, you will see your current heart rate, also you can check your daily HR range by swiping or scrolling down the screen. 
You can choose your preferences by clicking here (may also be called HR and stress measurement or Auto HR settings.) Whether or whether you choose to keep Measures on at all times, you should keep wrist-based REM (rapid eye movement) tracking consistent.For the option to set up alarms for both high and low heart rates, you'll need to scroll down to the Notifications section.
Turn on Samsung Health's REM sleep recording
This additional set up may be necessary, depending on the Watch model and app version you're using.
Simply swipe and click on the settings menu. 

Now, you can see the clipsis button here in the right side click on it in your settings menu. 

Here, you will see the REM sleep option which enables recording and tracking of your sleep, you have to toggle it on. 
Turn on blood oxygen level monitoring during sleep
There are so many watch models which helps you figure your blood oxygen level, but for that you need to take care of wearing the watch an inch above the wrist bone which creates a direct contact of the watch to the skin and helios in better and accurate results. 
Simply, Go to the Settings > Blood oxygen during sleep > Turn On.

To turn sleep tracking on your wearable OS3.O Go to the Wearable app > Watch Settings > Select Samsung Health.
Go to Samsung Health > Sleep > More options > Blood oxygen during sleep > On on your Galaxy watch.
Set-up snore detection
If you snore, the Samsung Health app has a feature called "Snore Detection" that can record your snoring activity. Keep your phone close to you all night to take advantage of the microphone.

If you want to record your snoring to see how often and how long you snore, Samsung suggests setting your phone so that the microphone is facing you.
Snore detection is available in the Samsung Health app on Wear OS 3 devices like the Galaxy Watch 4 and 5 as of version 6.18 or later; hence, you may need to update Samsung Health to use this feature.
How to turn on snore detection
In your phone go to apps setting and click on the Samsung Health opton. 

Simply click on sleep> then the additional choices and here you have to click sleep identifying snores. 
You can also turn this feature on in your phone, by selecting the  watch's measurement menu in  the "Settings" and then select the  "Snore Detection."simply turn it on always that wll detect your snores manually, and keep a record of it.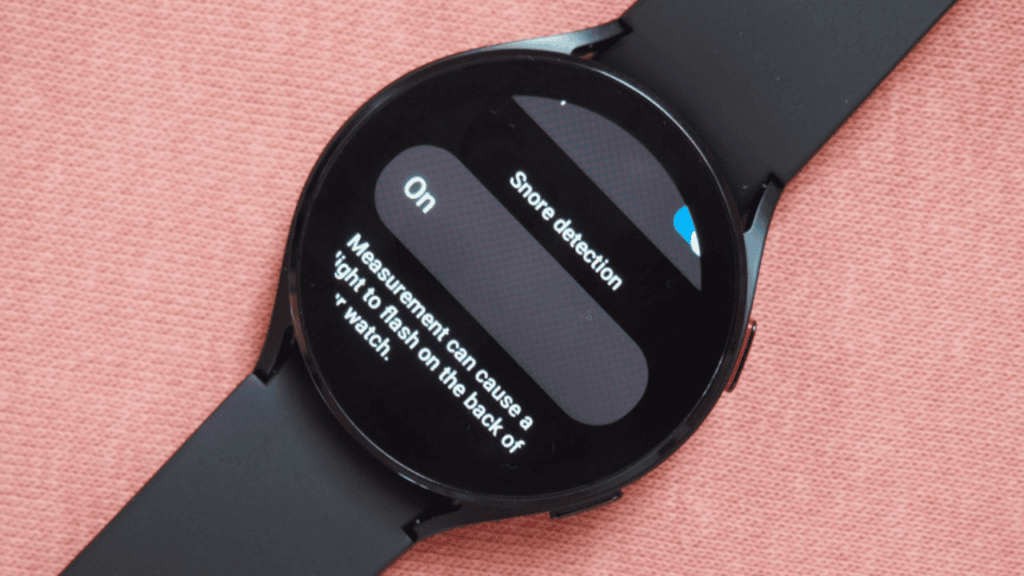 Conclusion: 
Samsung has launched so many cool and new features in their watches that seems helpful for everyone to use in their daily life such as keeping a tracking on your sleep, body mass, blood oxygen levels, fat burns, calories. This has made life very handy and catchy. So, in this article we have covered all the aspects to setup the samsung health app and set-up the snore detection along with keep the sleep tracker on samsung galaxy watch, i hope the article has provided you the good information, if you have any queries or you want to ask or share something with us for our 1lakh subscribers, do reach us in the comment section below. 
Also Read: 
How to Turn Off Amber Alerts in Android, iPhone & Samsung Smartphones | Simple Steps
Download Android 9.0 Beta update on Samsung Galaxy S9, S8
Slingbox Discontiued? Use These 9 Slinbox Alternatives Instead
How to update your phone to Android 10 Q beta?
FAQs: 
Q1: How do I track snoring on my Samsung Galaxy watch?
You simply click on the Samsung Health app menu and to monitor your snores click on sleep and now select identifying snores. 
Q2: Does the Galaxy watch give a sleep score?
Yes, you get a sleep score from your galaxy watch, that indicates to you that you need to take rest and sleep, and gives you a score between 1 to 100. Out of which above 70 the score seems ok, if the score is above 90 that means you are taking proper sleep and if the score is below 70 that means you need to sleep and take some rest.
Q3: How does my watch know I'm asleep?
As we have discussed in the article, there are sensors which work to detect the sleep heart rate, our motion sitting, standing, and sleeping. Trackers create a record of how many hours of sleep is required and how much you have taken. 
Q4: How many hours of sleep a person requires?
Sleep timing varies according to your age group as an adult person needs 7 to 9 hours of sleep per night, though you only spend 55 and 9 minutes in deep sleep.