Yes! This is true that well renown digital wallet called MobiKwik had been removed from the Google play store. You must be wondering why it has been impacted? They have a very huge userbase and without any infliction, for its reviews, what could be the possible reason for it to face this issue.
Why MobiKwik Removed
He has mentioned that it was not for any kind of promotion or monetary benefit, rather it was done in lieu of the health interest of the public. As the MobiKwik has more than 113 million subscribers, RBI asked them to urge the maximum number of users to install the Aroygasetu app.
In one of his interviews with Gadget 360, Mr. Singh mentioned, "App was removed because we had a link to the Aarogya Setu app. They gave us a warning one week ago and we explained that we have been asked to do this. Then today they first removed it around 3 pm IST and then we pursued their team and resubmitted the app after removing the link to Aarogya Setu and now they made it live. Google clarified that there is no harm in promoting Aarogya Setu app on MobiKwik, however, they removed our app today from the Play Store without any intimation."

Information from:- Indiatvnews.com
As per the sources mentioned in Link, their CEO Bipinpreet Singh mentioned on his Twitter account that it has been happened due to they had put a download link to the Arogyasetu app. They had actually received guidelines from RBI regarding this. They not only ordered MobiKwick rather it was ordered for all such apps like PayTm and many more. You can check his tweet as well which was as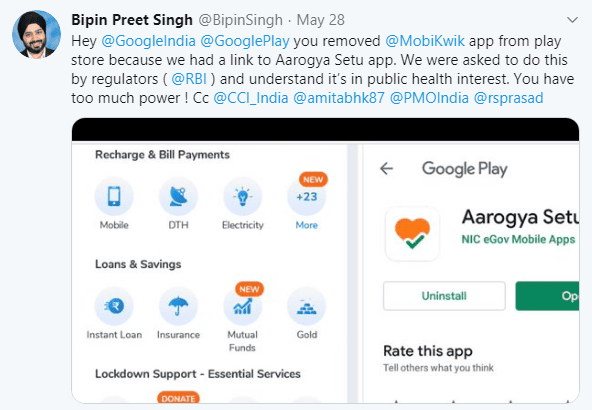 Let me tell you that Google has a policy of not promoting any application or post any link to install any application in your own app. This restriction is imposed to eliminate any kind of advertising and getting monetary benefits. These are already mentioned in their framed policies.
However, the Aroygasetu app link in the MobiKwik app was not posted for any kind of advertising or monetary gain. But they have now removed that link and after that Google has listed up the MobiKwik application again.
But this is still a mystery why Google removed this app only but not the others who still have a link to the Arogyasetu app like PayTm and other e-wallets.
Must Check
Conclusion
The sigh of relief and good news for Mr. Singh is that Google has listed the MobiKwik application once again on their platform and user can now access it easily.