Finally! OnePlus unveiled its most awaited smartphone, OnePlus 7. Along with OnePlus 7 pro, it's the newest addition to the OnePlus flagship series. Unlike earlier launch, OnePlus did something different and launched two smartphones at the same time. OnePlus 7 Pro is the premium model and replaced the 'T' series of OnePlus as it has some additional features than the regular Oneplus 7.
OnePlus 7 series s an upgrade over its previous release of Oneplus 6t in terms of design, features and specifications. Besides, I know some people with Oneplus 6T smartphone are confused about whether they should upgrade to Oneplus 7 or not. Well, don't get worried as I will compare both these devices by its features. So, continue reading and find out all of your answers below-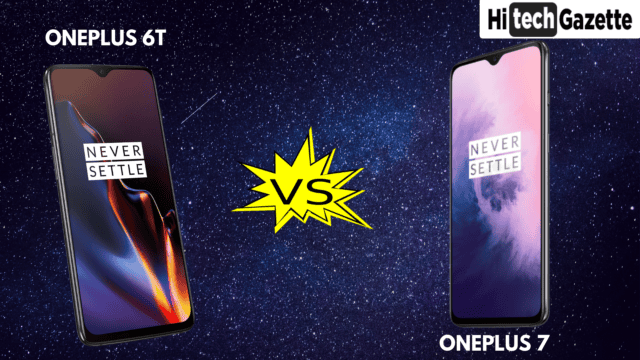 OnePlus 7 vs OnePlus 6T Design and Display
In terms of display screen both the Oneplus 7 and Oneplus 6t, supports a 6.41-inch 1080 x 2340 screen with the pixel density of 402 PPI (Pixel Per Inch). In addition to this, both the smartphones have an in-display fingerprint sensor. However, as compared to 6T, Oneplus has a much bigger fingerprint scanner. So, it's a lit bit easier for you to use it.
Both smartphones have a similar design. You will get a small teardrop notch at the of your smartphone's screen along with a bezel below the screen. However, if you purchase Oneplus 7 pro edition than you will get the additional feature of pop-up selfie camera along with it.
Back of Oneplus has corning gorilla glass 5 along with a dual-lens camera. In terms of colour, Oneplus 7 will be available in Mirror Grey colour right now as compared to Mirror black, Midnight Black and Thunder purple for Oneplus 7. However, I hope that soon they will release Oneplus 7 with some new colours.
See More– Which Nokia Smartphone is right for you?
OnePlus 7 vs OnePlus 6T Camera
Since the release of 5t, Oneplus is improving its smartphone in the Camera department. Both Oneplus 7 and 6T share a dual-lens rear camera. However, OnePlus 7, comes with the combination of 48MP camera and f/1.7 aperture primary lens and a 6 Megapixel telephoto lens. Whereas Oneplus 6T has 16MP camera f/1.7 aperture lens that is paired with a 20MP f/1.7 aperture lens.
Moreover, Oneplus 6T has slow camera processing, which is improved in the OnePlus 7 as it offers the feature super-resolution (to enhance image detailing) and HDR+. Moreover, if you love to take selfies, then I recommend you stay with Oneplus 6T. Well, the only reason is that both the smartphones have 16MP front-facing camera and I really liked the camera of Oneplus 6T. So, don't expect any major upgrade in the Oneplus 7. I anticipated that Oneplus will provides some significant changes in the camera department. However, they disappointed me in this department. Besides, if you can purchase the pro edition of Oneplus then go for it as it has pop-up selfie camera.
OnePlus 7 vs OnePlus 6T Battery
There's no significant difference between the capacity of the battery as both have 3700 MAH battery. As an average user, my Oneplus 6T gives me battery back of a day easily. However, if you purchase the pro edition, you will get a warp charge along with 4000MAH battery.  This new charging feature allows you to charge your Oneplus 7 pro with 30 W (5V/6V) charger. It can charge your smartphone in minutes without producing heat.
OnePlus 7 vs OnePlus 6T Power
Oneplus 7 is powered with the latest Snapdragon 855 chipsets as compared to snapdragon 845 on Oneplus 6T. Although, I didn't have any issue with my Oneplus 6T in terms of performance. However, if you to get a much more powerful device than you can go for Oneplus 7. In addition to this, the Snapdragon processor is coupled with Adreno 640 GPU. So, if you love to play games like PUBG in your smartphone, then you play it in HDR graphics quality without any lag.
OnePlus 6T vs OnePlus 7 Price
Oneplus came to the smartphone market with the Tag of flagship killer and with the launch of Oneplus 7, they surprised everyone. Earlier in October, Oneplus 6T was launched with the selling price of 37,999. As compared to 6T, Oneplus 7 launched at a much lower rate of 32,999, which is 5,000 Rs less than the latter. So, now, Oneplus 7 with 6GB of RAM and 128GB of storage will cost you around $ 470.
Must Read- Xiaomi Mi A2 vs Nokia 6.1 Plus Comparison
Takeaway
On paper, you can say that Oneplus 7 is a massive upgrade over 6T in terms of processor, storage, camera department. However, still there are some features like design, battery, and screen are quite similar to its predecessor. Moreover, both the smartphones will get regular updates of the Latest Android Version.
To sum up, I would say that Oneplus isn't an exciting phone, especially when it is launched with Oneplus 7 pro. So, if you have Oneplus 6T than instead of Purchasing Oneplus 7 I recommend you buy the pro edition. Besides, if you have any question regarding this, then let me know via the comments section.