Also there is another leak which just 'confirms' the fact that the handset is going to have colour variations.
It is definitely an exciting time as THE GALAXY S9 will be releasing just in a month's time officially and the company Samsung has also confirmed the fact that its 2018 flagship will launch in February.here, an existing post on All About Samsung Galaxy Note 8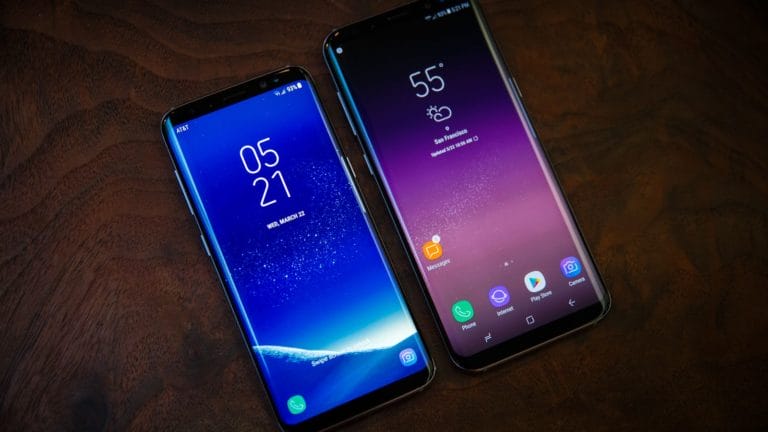 We are already aware of the surprises that Samsung S9 and S9 plus will have in store for us because of the online 'leaks' and 'rumours'.
So as far as all the hype and rumour generated in the market is to go by, these Samsung handsets will have, a 5.8 inches of display with 6.2 inch QHD plus super amoled curved display which will be 570 ppi or 529 ppi.
It will also have android 8.0. Also it will have Qualcomm Snapdragon 845 (US) and Samsung Exynos (UK). It will also have a RAM of 4 GB/ 6 GB. The storage in these handsets will be 64GB/128GB / 64GB/128GB/256GB which is pretty cool. There will also be Cat 18 LTE support (1.2Gbps download speeds) and also rear-mounted fingerprint scanner, these handsets also has 12MP Dual Pixel camera with OIS (f/1.5, f/2.4) / Vertical dual rear-facing camera, along with Bixby AI assistant with dedicated button.
It will also have USB-C, 3.5mm headphone jack with wireless charging support along with IP68 water and dust resistance and a built-in FM radio with an updated DeX docking station
The brand Samsung has confirmed the news that its new and much hyped about handsets Galaxy S9 and S9 Plus will get launched on 25 March. Also an internet leak has confirmed the fact that the pre-orders of the Galaxy S9 will start in just a few days later on 1 March, and also the handset is also expected to get started with the shipping just two weeks later on 16 March.
Till now there has been nothing said on the Price of S9 and S9 plus. however one thing is to be sure about that  it will be tad bit higher than his S8 and S8 plus ancestors.
There is a video circulating on the internet that claims the fact that the video that they are showing is of Galaxy S9 prototype. The clip is of ten seconds and does not reveal anything extra ordinary but makes sure that there will be the same curved OLED display in S9 as there was in its ancestors like S8.
There is a video which is on some Chinese site and the video claims the fact that it shows a working prototype of Galaxy S9 which the posted a month before its MWC launch. Also there is a different leak on the internet that claims the fact that S9 will be available in the colour option silver and grey.
Samsung has confirmed the fact that its much hyped about handset S9 is going to make its entry soon on 25th February, Samsung has issued a teaser which doesn't actually reveal much but tells that the camera of the handset is 'reimagined' which has actually raised up our expectations.
It might seem that Samsung has surely let out some information about the Galaxy S9's camera details on its website, the exciting news is the fact that the firm will have ISOCELL sensors, there are three stack fast readout sensors which will allow the cameras to record the video in full HD resolution at a whopping 480 frames per second which informs that there is going to be a super slow motion that is going to be supported at a really high resolution.
There would also be a feature named Super PD which Samsung has hinted that will give the smartphones a really fast autofocus speeds for the cameras. Ther than that, on Samsung's website, it also informs about three other sensors: ISOCELL Bright, Dual and Slim, but it's still not sure as to which one will be debuted on Samsung's incoming flagship duo.
A news website of South Korea's has also spilled out some details about Samsung's upcoming Galaxy S9 and has also revealed the fact that it is going to be the first smartphone which is going to use  the 'Y-OCTA' display technology. This would be a next-gen screen tech that will allow Samsung to place the touch sensor directly on its OLED layer, which will enable the firm to be trimmed back on both its thickness and weight.
The galaxy S9 is also going to utilize the SLP which are actually substrate like PCB mainboards and also the circuit miniaturisation technique which is seen for the first time on iPhone X, which has enabled Samsung to free up a lot more space inside the handset.
Are you also on the similar levels of excitement as we are right now, this handset definitely seems like something which is worth the wait and the hype, let us know in the comment section below if you are also excited about the launch of these new handsets by Samsung.