Last week I shared 3  of my favorite horror games with you.
However, in a survival horror game, The Forest couldn't make it to the list.
So, today, I decided to come up with a standalone post on the Forest.
Even though I won't discuss everything about this game, I'll be listing the forest's best weapons in 2021.
I've been playing this game for the past 1 year. So, I don't think there would be anyone better to answer this question than me.
But first, let me make it clear why do you need weapons in the Forest.
Well, here your goal is to build a home base. However, in the process, you must fight off zombies, collect items, build weapons, and upgrade their weapons to survive in the forest.
All in all, survival is the key essence in this game and you can't survive in it without having a collection of the best in-game weapons.
Throughout the game, you'll find weapons such as:
✅Axes,
✅Melle,
✅Projectiles,
✅Ranged,
And a range of Ammunition.
Not just that, when the time is right, you can even upgrade the weapon to change its speed, damage.
Despite all this upgrade, a question remains unanswered – Which Forest weapon is the best?
Don't worry as up next I'll share the forest best weapons in order.
So, let's get started:
MODERN AXE
I've placed a modern axe right at the top as it can do everything you're supposed to do in a forest. This modern ax can be used for multipurpose. If you want, you can use it:
as a weapon,
to cut down trees.
In the first video game, a modern axe can deal with 7 damages while staying from the speed is 5 to that of 9.
Bow and Arrows
Wherever I hear about Bow and Arrow, I get the visuals of the CW show the Arrow that I watched on the third-party video streaming website LosMovies.
I know all this sounds ancient in 2021 but believe me when you're in a forest, there's nothing better than having this weapon in your hand.
If you're just started out playing the forest video game, Bow and arrows is the 1st weapon I would recommend you to craft to help you in every way down the road.
Even though it's not easy to craft this weapon. But see, nothing is impossible.
And once crafted, you can use it to slow your enemies or kill mutants and cannibals by using poison on your arrows.
Upgraded Spear
This game is all about a forest. So, how can you survive in it without hunting?
There's no way, right?
So, that's why you can have an upgraded spear to aim straight towards the cannibals.
This is a helpful weapon to come out of a situation where traps are set up by cannibals. You can use it to break the trap and swing the spear right at them. This particular spear is an upgrade over the weak spear that's available at the start.
Chainsaw
A chainsaw is a weapon that would do anything you would want it to do.
On top of that, no other weapon can beat the super scary sound of a chainsaw.
Its usage isn't just limited to weapons as you can use a chainsaw in cave diving, cut down trees in the first.
In the forest video game, you can have a fun ride finding mutants and cannibals. However, during this search your need to stay attentive as you can find a chainsaw right at the third cave on a table of mutilated bodies.
Molotov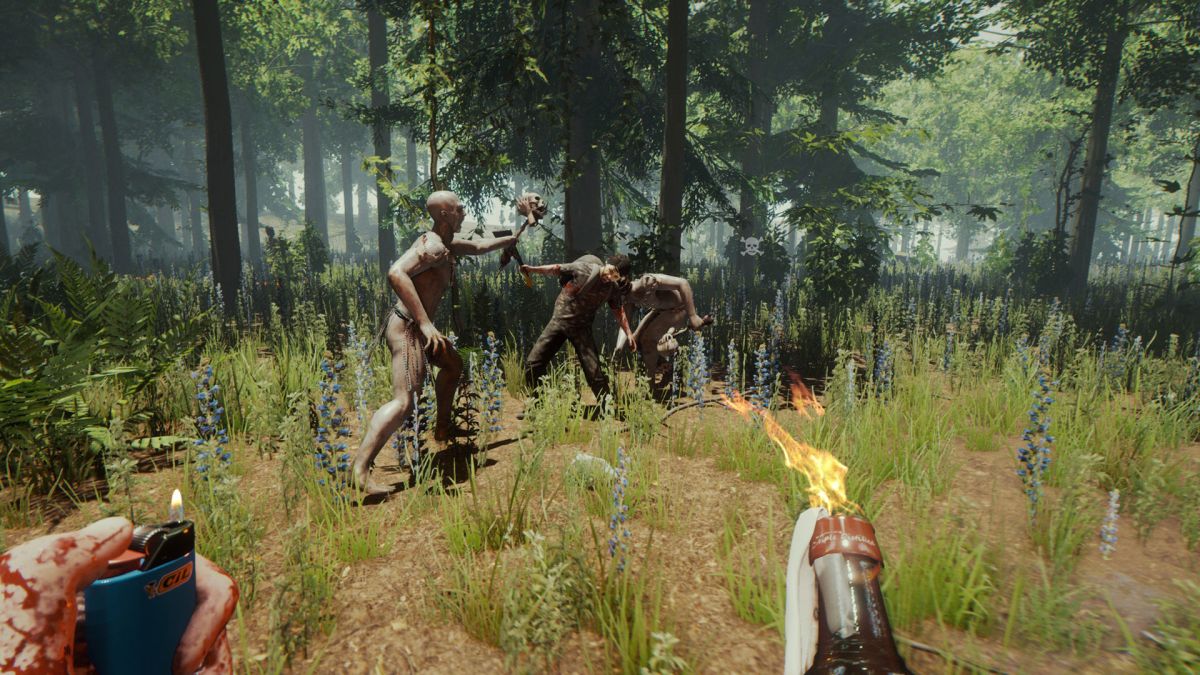 Wait, why Molotov?
Why not a grenade?
Well, I don't think there's any major difference between the two. The main reason I've included a Molotov in this list is its ability to be easily accessible to everyone.
Not just that, it comes in handy when fighting against cannibals and Mutants.
The best part with Molotov is that you can create it yourself. All you've to have is some booze and cloth.
That's it. Once you've it with you, it becomes easier for you to eliminate in-game monsters by a surprise attack.
Final Thoughts
So, that's my list of 5 go-to weapons in the forest video game.
As I said in this post, the forest video game is all about your survival skills and you can't survive without the right weapons.
That's why I believe the 5 weapons mentioned in this list can help you come out of any situation you're in.
Then it doesn't matter if you're a beginner or an expert in this game. Talking about beginners, if you're having a hard time progressing in the game, you can take some help from the forest cheats.
That's all for now.
Apart from these 5 weapons, if you have some other weapons as your favorite then do share them with us in the comments section given below.