Play store is the official store of Google and also the pre-installed app in android devices. Usually, when we wanna to download any app or game in our smartphone we choose Google play store but there are lots more apps which do not exist on the Google play store.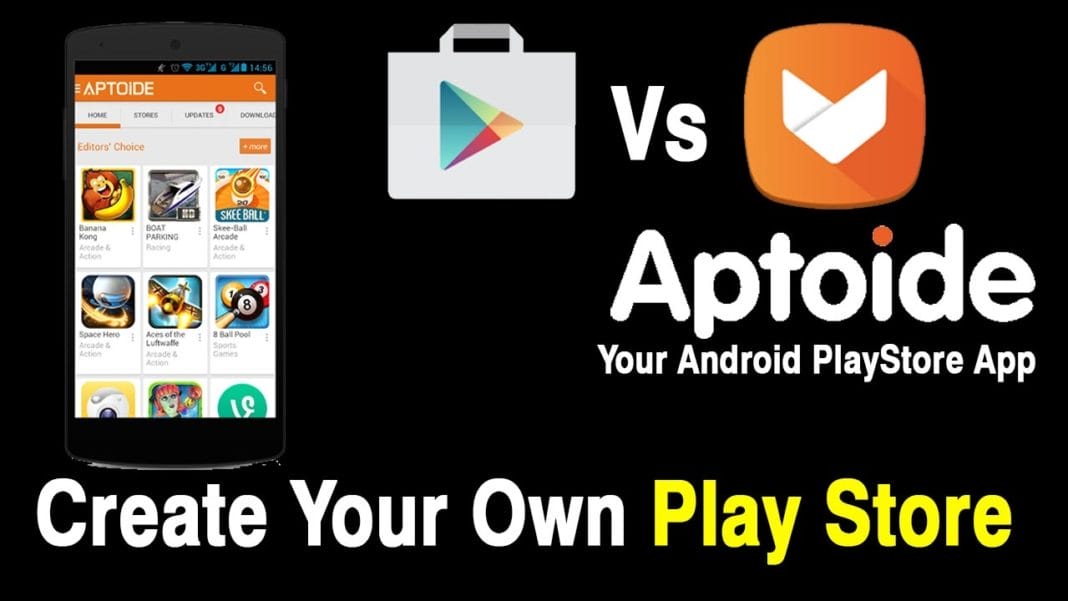 Aptoide is also the perfect alternative of Google play store and it has been launched in 2009 and nowadays it becomes more popular for downloading and installing apps. Also, Aptoide seems the real rival of Google play store as you don't find it on play store and you have to navigate its official site to download it.
9Apps is the product of the Alibaba group and also known as the best substitute of Google play store. 9Apps also not available on the Google app store and known as a third-party app store. You can download all the restricted apps for free.
Aptoide vs 9Apps vs Google Play Store: Key Features
Although all the three app stores come with different features we compare all of them on the basis of some certain facts. Take a look below to know more about all.
Popularity
All three are the well-known name but Google app store is the most popular apps out there as it is considered as the biggest marketplace for Android apps. Also, Google play store was launched when there was no alternative for it and since then it has become the brand name. Aptoide and 9Apps are also famous but less than Google play store.
How to download and install 9Apps app store on Your devices
Security
Security is the topmost priority when we come across the online content. Within seconds your personal information can be hacked. When things come in terms of security then Google Play Store and Aptoide both are quite secure. I have not confirmed the security of 9 Apps store as it allows you to install restricted apps which can infect your personal information.
Aptoide vs 9Apps vs Google Play Store: Which is the best store to download free android apps
Price
Price matters a lot when we download an app. As you all know Google Play Store offers you both free and paid apps and about 40% apps on the play store are paid. But both Aptoide and 9Apps allow you to download all the premium versions of a particular app for free. Here 9Apps and Aptoide are winners.
Is 9 Apps best alternative of Play store: 9 Apps vs Play Store
Content and Apps
The main feature of any app store is its content library. Why we search for the alternatives of Google play store because we can't download every app via Google Play Store. Both Aptoide and 9Apps permit you to install apps and games in your devices but on the other hand, 9Apps comes with the wide variety of online content. Through 9Apps you can download each and everything like music, games, ringtones, wallpapers and even Uber app exists on 9Apps.
Size
We face a hanging issue often and try to find out the small-sized apps. Another noticeable feature of a particular app is its size. Small sized apps are in demand. Google play store is a heavy app and Aptoide is less heavy than google play store. 9Apps is the lightest app store out there as it consumes only a few Kilobytes of your device. In terms of size, 9Apps is the visible winner and saves the memory of your device.
Final Verdict
Here in Aptoide vs 9Apps vs Google play store, you would come to know the clear difference between them. In popularity and security, no one can compete Google play store and Aptoide is ahead in the availability of free premium apps. Aptoide also allows its users to create their own store as it is a sharing programme. 9Apps is the hub of wide online content and also small in size. Definitely, this comparison will assist you while choosing an app store.
Still, any query regarding these app stores then comments below and also share your experiences about them. For more updates stay connected.