Cash App is a popular mobile application used by many people. It brings them the convenience of sending and receiving money.
However, sometimes things don't go as planned, and you're unable to do these 2 basic tasks.
So, the best thing you can do is fix the issue ASAP. And the best way to do that is by applying these 9 quick fixes mentioned in this post.
However, before I share them, look at some common issues of the Cash App.
Common Issues of Cash App
When using a financial transaction app like Cash App, encountering issues can be frustrating and inconvenient. Some common problems that users often face include:
Login Issues
Many users sometimes find themselves unable to log into their Cash App accounts. This could be due to several reasons, such as a forgotten password, incorrect username, or even technical issues from Cash App's end.
A disrupted login process hinders your access to your account and delays any urgent transactions you may need to make.
Payment Failure
Another prevalent problem is payment failure. When you try to make a transaction that fails, it could be due to various factors, such as insufficient balance, internet connectivity issues, outdated Cash App version, or the receiver's account is invalid. Payment failures can cause a delay in money transfers and may disrupt financial planning.
Unable to Link Bank Account
Linking your bank account to Cash App is crucial for making transactions. If users cannot link their bank account, it could be because of entering incorrect bank details, network issues, or an incompatible bank. This problem could prevent users from enjoying the full benefits of the app, as they might be unable to send or receive money.
Such common issues can severely affect users' experiences as they limit Cash App's functionality and convenience. Therefore, quickly understanding and resolving these problems is essential for seamless financial transactions.
9 Quicks Ways to Fix 'Cash App not Working' Error
Fix 1 – Check the Internet Connection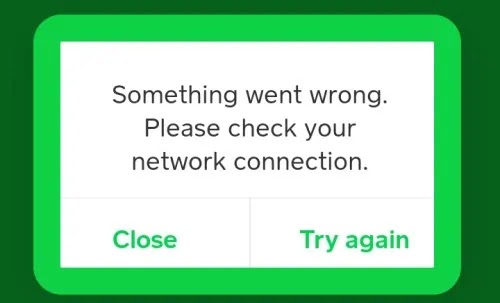 The first thing to do is check that the internet connection is working. If you're having trouble with the app, try accessing it on a different device or network.
If you still can't access Cash App and are getting an error message like "Sorry, something went wrong" or "We're having trouble connecting with your bank," there may be an issue with your device's compatibility with Cash App.
Fix 2 – Verify Your Account
Verify your account by entering the code from the email you received. You can also verify your account by calling customer support. Verification is necessary to ensure that you are the owner of the account and able to access it at all times, especially if there's an issue with the Cash App not working correctly or at all.
Fix 3 – Restart your device.
If you're having issues with the Cash App, one of the first things to try is restarting your phone. Restarting can help fix many problems and bugs, so it's worth a shot.
To do this, hold down on the power button for about 5 seconds until you see an option to turn off or restart your phone. Select "restart." If this doesn't work, try again later, it might take longer than usual for the app to load up after being closed.
Other users have found success by uninstalling/reinstalling their apps and deleting all data from their devices to start fresh with new information from scratch.
Fix 4 – Check Cash App Server
You need to contact the Cash App help center to fix the issue. Follow these steps:
Go to status.cash.app and check all the listed issues.
If your issue is not listed, click the contact us button in the footer.
Enter your email address, phone number, and name in their respective fields (you must enter this information before pressing enter).
Type in the unique issue with the Cash App and some screenshots.
Fix 5 – Reinstall the App
The App Store is a great place to find all your favorite apps, but it can also be frustrating when things go wrong. To fix this issue, make sure you've updated your Cash App by following these steps:
Go to the App Store on your phone or tablet.
Click "Updates" at the bottom of any screen that appears when you open the App Store application (you may have to scroll down).
Look for an update for "Cash" and click Install if there isn't one already installed on your device.
Fix 6 – Clear Cache and App Data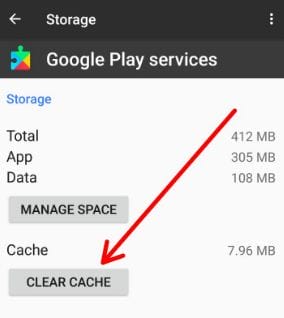 To clear the cache and data, follow these steps:
Open the Settings app on your phone and select Storage.
Select Phone Storage from this list of options, then tap Cash App on the next screen (you may need to scroll down).
Tap Clear Cache or Clear Data, depending on which option you want; both will delete temporary files from your app. However, only clear data will reset to factory settings – any information stored locally will be lost.
Fix 7 – Check Linked Bank Account
If you are having trouble sending or receiving money in the Cash app, checking your linked bank account is correct is important. You can do this by going to the Settings menu and scrolling until you see "Linked Bank Accounts."
If you have more than one bank account linked, select the one that has been giving you trouble sending and receiving cash from friends or family members.
Fix 8 – Check if you are entering the correct details
Before you enter the details, make sure you have entered them correctly.
Check for typos. If you have typed a word incorrectly or made a spelling mistake, this will result in an error message when you try to send money. Check the details that you have entered and correct any errors so that they are correct before sending.
Check capitalization, spacing between words and letters, and punctuation marks like commas (,) or semicolons (;). You should also check whether there are any special characters such as dollar signs ($), exclamation marks (!), question marks (?), asterisks (*), etc.
Fix 9 – Update the App
One of the easiest ways to fix Cash App is by updating the app. You can do this by entering your phone's settings and selecting "Apps" or "Applications." Once there, find Cash App and tap on it, then select "Update."
It's also important that you check for new features after each update. These can include:
Bug fixes and security updates (to keep your information safe)
Improved performance (for faster loading times)
Stability improvements and more.
Conclusion
So, these are quick fixes you can apply to eliminate the Cash app not working error.
I hope this article has helped you in this elimination process. However, if you still have questions, please ask in the comments below.
In the meanwhile, do check out this Chime vs Cash App Comparison.