Imagine, you've started your PC & you see something like this BLUE SCREEN: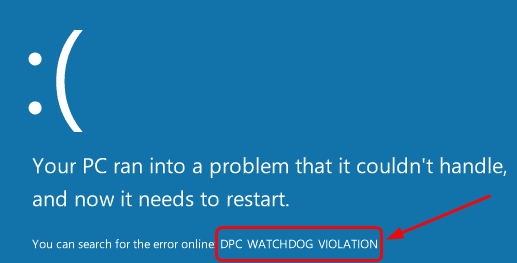 You would panic, right? Well, any sane person would.
But don't, Do you know why?
Because, this problem has not 1 but multiple solutions.
So, in this post going forward I'll be letting you know more about this DPC Watchdog Violation error.
What is DPC Watchdog Violation Error?
Is the error somehow related to the video game WATCHDOG?
No..No…No….
Just like many Windows users, you've got it all wrong.
You're confusing this error with a video game of the same name.
DPC in DPC Watchdog Violation is Deferred Procedure Call.
And as for Watchdog, it's a related to a bug checker in Windows PC that monitors and tracks its overall performance.
Further, the performance depends on the number of programs installed and system processes running in the background. With this fact alone, it's obvious to expect the DPC Watchdog Violation error because of multiple reasons.
Not only that, expect this error several times in a day. So, the best thing for you would be to apply the solutions I'm going to mention up next.
How to Fix DPC Watchdog Violation Error in Windows 10?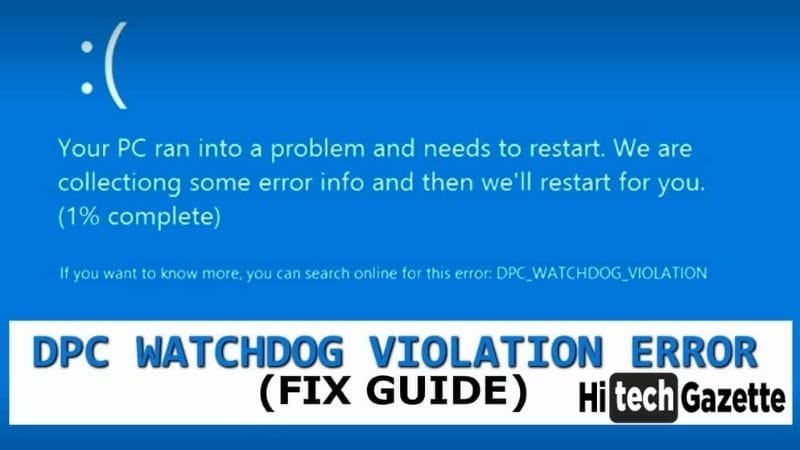 Remove All External Devices on Your Computer
Computer architecture is a complex machine where many rrors can occur because of hardware conflicts.
If you've recently connected a new piece of hardware like:
✅External SSD
✅External Hard Disk drives.
✅Printer or even,
✅Scanner
Then immediately unplug all these external devices and restart your computer.
Now that 1st half is done, it's time to check which particular hardware is causing the error.
After this, once again connect these drivers one-by-one to see which particular piece of hardware is causing the blue screen.
CHECK YOUR CABLES
Look at this image:
That's looks messy. Isn't it?
This management of cables can further lead to cable disconnection.
So, it becomes a super importqant task to check each and every cables connected to your PC externally.
Most of you ignore this aspect of compuetr architecture. So, it's important to have good knowledge in this regard.
For this, you can refer to my previous post where I've briefly explained how bad cable management heavily impacts your PC in the long run and how easily you can implement good cable management.
Update Your Window OS & Drivers
Are you still using the older version Windows 10?
An older version that even Microsoft has stopped supporting.
If you really want to fix this DPC Watchdog Violation error then it's important that you update your PC to the latest version immediately.
But don't stop right there.
Use Driver Booster 8 to check & update the latest drivers of your PC components.
If you don't want to use this software, go to the website of manufacturer of a particular PC componenet to download & update the compatible drivers manually.
P.S. After updating these drivers to the latest version, reboot your PC to see the active changes.
Remove Recently Installed Software
Suppose you've installed a particular third-party software and only after that you've started to get the blue screen with DPC WatchDog Violation error.
What would you do?
You would remove it right away.
That's correct and for that, you can do that by following these 3 steps:
First open Control Panel in your PC and in the list of available options, select Programs and Features.
Now, uninstall all the recently installed softwares from your PC one-by-one.
After this, restart your computer, and see if you're still getting the blue screen error.
Scan and Fix System Files
If youi're getting DPC Watchdog Violation error because of corruption of files at the ssystem level then it's time for you to run a system-wide scan and apply the automatic fixes.
And you can do this by following these steps:
First, use the run dialog box to open command prompt with adminstaror rights.
Once CMD is running in the background, type the following command into it:
sfc /scannow
and hit ENTER.
That's it. Wait for some time as the scanning process gets completed.
If there are any actual error then you're notified with a message saying "Corrupted Files Detected."
These are the corrupted files that you need to repair. Once done, restart your PC to see actual changes done because of it.
Fix IDE ATA/ATAPI controller
Some users have even reported DPC Watchdog Violation error because of fault in IDE ATA/ATAPI controller installed on your Windows 10 PC.
So, in this solution I'll tell you can fix it by simply installing a completely new driver altogether.
First, Open Device Manager > Hardware in the Control Panel of your PC.
In the list of available drivers, double click on the IDE ATA/ATAPI driver section and select properties.
Then open Driver tab and Driver Details, you need to confirm name of the driver to be 'iastor.sys'.
If the file is missing, then immediately update the driver to its latest.
Once you click on the Update Driver option, pick 'Standard SATA AHCI Controller' from the list of available options and install.
P.S. Not only DPC Watchdog Violation, this fix will addess most of the blue screen error popping up on Windows 10.
RUN SYSTEM RESTORE
After resorting to all the solutions mentioned above, if you're unable to find the right solution, the only option you're left with is restoring your PC to the last restore point and you can do that by following these steps:
First, open Windows 10 settings, open the Update & Security tab & pick the recovery option available in the left pane.
Now, from the available options reset your PC without losing al the existing files.
Once your PC is reset to the last saved version, check to see if the DPC Watchdog Violation issue still persists.
I'm 100% sure that this will not only fix DPC Watchdog Violation error but any other issue you're facing in your PC.
Frequently Asked Question | DPC Watchdog Violation
How this DPC Watchdog Violation is different from the Windows Blue Screen of Death?
Once you've got the blue screen of death on your Windows PC, there's no way you can recover your PC from that state.
The only solution for you would be to reinstall the latest Windows 10 OS. However, in the case of DPC Watchdog Violation, there are some solutions you can implement to fix it.
Does these solutions works for Windows 8/8.1 PC?
Yeah, definetly. All the solutions mentioned for Windows 10 also works well with the Windows 8/8.1 PC.
Is DPC Watchdog Violation error BAD?
Just like any other blue screen error, this one is also bad for your PC. But as long as the solutions mentioned to the top, all such errors are manageable.
Conclusion
Don't panic whenever you see the blue screen error on your PC.
It's not like every blue screen error would force you to format your PC.
Some errors are manageable & the solutions mentioned at the top are sheer proof of that.
That's all for now.
If you've faced any problem applying any of the solutions mentioned in this list then do let me know about this in the comments section below.