Recently, I was having some issues with my PC.
It wasn't anything severe but it was taking a lot of time even when I was doing some basic tasks like using Microsoft Word or casual browsing,
So, that's when I decided to reset my PC.
Well to my surprise, I was getting errors in resetting my PC.
Weird, right?
Previously, I've provided ways to fix:
✅And even driver-related errors.
This one seemed like something new.
That's when I went on nonstop Rampage to try out different solutions.
After hours of headache, I was finally able to reset my PC.
Well, to be honest, this wasn't easy for me.
However, to make sure this doesn't happen to you, I am sharing some solutions that actually worked for me.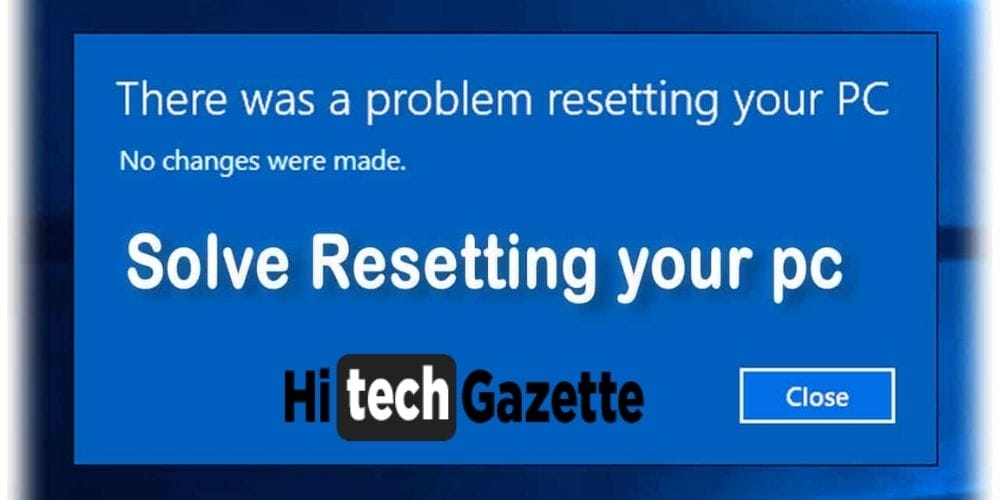 4 Working Solutions to Fix Resetting Your PC
Mainly this error is coming out of the PC where it is running Windows 10 build 2004.
I'm not saying that it's just limited to this. It's possible that you can get the reset error when using even the earlier or the latest version of Windows 10.
USING COMMAND PROMPT
In this first method, I will share a command that you need to enter into the command prompt to fix the error that's actually messing up with your PC.
First Type 'Window + S' keys together and search for command prompt. Once you see the desktop app in the search result, right-click on it to run the app as administrator,
Once it is opened, type the following command & press Enter:
Dism/online/Clean-up image/Restore health.
That's it.
Restart your PC and once again try to reset your PC,
I hope you were able to reset your PC after this. However in case you are still stuck & getting the same error. Do try out the next few solutions I'm going to share with you.
RUNNING SYSTEM FILE CHECK SCAN
Every time you come across any similar issue, it is possible either because of the corrupted files or any similar problems.
The good news is, this one is easily manageable.
All you have to do is follow these couple of steps that I'm sharing with you.
Once again follow the same steps I mentioned at the top to run the command prompt with administrative rights
After this, type SFC/SCANNOW and press enter.
Now that the SFC scan has started, you need to wait for 15 to 20 minutes without interrupting the scanning process.
Note: Remember you need to try this method only if you have failed in the previous solution.
USING A SYSTEM RESTORE POINT
Suppose, you are using a PC to do your office work, but suddenly, you see a blue screen of death. Like this:
Well, in the case of Windows PC, this means the windows 10 operating system installed on our PC is gone.
For that, the only solution you have got is enabling the system restore point.
Do you know what it is?
Well, as the name suggests it stores a backup of your PC in the last working state.
If you don't know how to do this, follow these five easy-to-follow steps:
Once again, search for the 'Windows + S' key together to search for SYSTEM RESTORE POINT in the search bar.
Once you get it on the list, open the system restore properties.
This will open up the setup wizard. Click on next to see a list of already saved restore points.
Select the recently working restore point and click Next.
Similarly, follow the next few instructions carefully to complete the setup process.
P.S. Remember, this only works if you have turned on system protection. If you don't know how to do this, simply go to the system recovery and from there, configure the system restore point to enable the system protection.
DISABLING ReAgentc.EXE
Someone on Discord recommended I disable a particular process.
Previously I've disabled many problematic processes on my PC.
So, I'm not new to this.
And as the heading suggests, you might already know what's gonna happen next.
It's time to disable ReAgentc.exe from your PC.
In many of my previous posts, I have clearly mentioned how some processes can mess up your PC. And this time it is the background process ReAgentc.exe.
When it comes to disabling this process, all you have to do is follow another 5 steps:
You know the DRILL Open the command prompt with administrator rights.
Once it's open type in reagentc/disable and press enter.
Then enable the same process again by replacing disable with enabling like this: reagentc/enable
That is it.
Lastly, close the command prompt and restart your PC to see all the changes done.
Final Words
All these methods solutions mentioned in this list are quite easy to use.
Don't give yourself any excuse by saying it's complicated tech work and requires immediate help from the experts.
It is completely wrong. I am not that a techie person and I fixed the resetting issue using these 4 solutions with complete ease.
That is all for now.
I hope the 4 solutions I have mentioned at the top worked for you. If they did, do let me know which one worked for you in the comments section given below.