Fantasize…..Every time you open your PC, your PC gives you a different appearance…Will it amaze you? If I talk about me…. It will definitely amaze me.
Before I disclose the software name to you, answer these questions first…
Other than amazing, Do you want to give a snazzy look to your taskbar? Or Looking for something that can blur, color, and give magnificent look to your taskbar?
Actually, I searched hard for it and tried to find some amazing software and you know I succeeded and found the one which is reliable and free. The software is a program of a renowned company – Microsoft and it is well-known as TranslucentTB.
For every detail of it, continue reading till the end.
Let's Begin:
Translucent TB:
TranslucentTB is an open-source program to make your windows taskbar transparent when it runs. It is available for the devices that run on Microsoft's Windows 10 operating system.
TranslucentTB is a portable, pretty lightweight standalone program that will help you manage your taskbar successfully. Basically, it provides you control over the look of your taskbar.
With this, you can customize your taskbar as per your preference- You can change the effect, color of it. Moreover, you can also combine different options together such as maximized window, Start Menu open, Timeline open and Cortana open.
If you want to provide customization to these then you also do this, with the help of this. You can give a pleasing look to your taskbar with some dynamics.
In short, it gives you:
Make your taskbars transparent.
You can customize various states
Apply different colors and it is the color picker
Affects aero and Cortana
Available only for Windows
Now, Let's check the features of the TranslucentTB.
Attributes of TranslucentTB:
Without knowing about the features of the TranslucentTB, you will not be able to take an accurate decision of whether you should go for it or not. These include the features which outstand TranslucentTB from other programs.
Do you know what is Ray Tracing Technology? If you are a gamer then you must know about it. It is a new revolution in the gaming world. Here we have mentioned everything about it that you must know.
Dynamic Modes:
It offers you dynamics for the plethora of modes. You can use them all together or separately. Along with that, customize each of them. Here, is a list:
Dynamic Windows: If your window is currently maximized then it will frequently change the appearance of the taskbar.
Dynamic Start Menu: With its usage, your taskbar appearance will be changed every time when you start your start menu.
Dynamic Cortana: Look of the taskbar will be changed as Cortana will be open (if it is disabled).
Dynamic Task View: Like above, when you open the Timeline or Task View, your taskbar look will be changed.
Taskbar States:
With this, you can change the color except normal and customize its style also. Some of the changes that you can do are: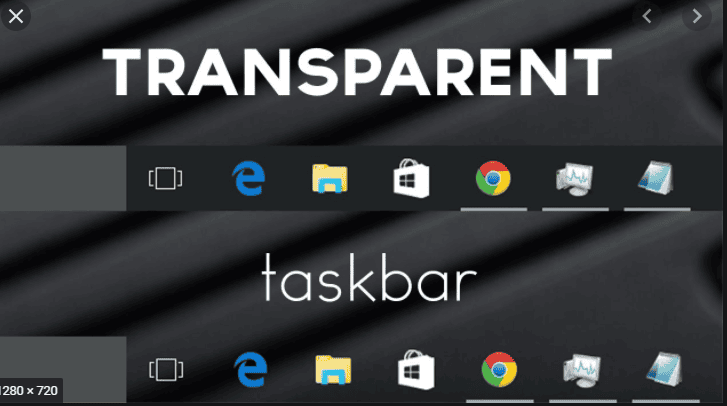 Blur: If you choose this, then your taskbar will slightly be blurred.
Fluent: This is only available for those PC which has Windows 10 April 2018 update. Your taskbar appearance will look alike Microsoft's Fluent Design guidelines.
Clear: This will make your taskbar transparent.
Normal: In this case, your regular window style will display.
Opaque: After using it, your taskbar will have no transparency.
Latest color picker:
It provides you different options for modern color pickers. Along with this, it assists you with alpha and lives preview so that you can change the taskbar colors effectively.
If you are an iPhone notably iPhone 12 user then you should be aware of the Best 10 Apps for iPhone 12. It contains all the websites that you must use to fully use the abilities of your phone. 
Aero Peek button:
With this tool, you can show or hide the Aero Peek button or by following Dynamic Windows.
These are significant features of the TranslucentTB. When you will use it then you will find it worth it.
TranslucentTB: Supported Devices and System Requirements:
TranslucentTb only supports Windows 10. Along with this, you have to fulfill the below-listed requirements, if you want to use it.
Os                                Window 10 Version 15063.0 or higher
Architecture                x86
DirectX                        Version 11
If you satisfy all the above requirements then you can use TranslucentTB.
Also, Read MongoDB vs PostgreSQL | Database Management Systems
TranscluentTB: How much space it will take?
I always check this before buying or downloading any software or program. So that I should know will it affect the processing unit or speed of the computer.
Well, it is very lightweight that uses a little amount of your memory. It occupies less than 2 Megabytes of your memory when the program is running on your computer. Furthermore, the CPU usage is also quite less or you can say a minute when it is running.
So, if are worrying that it will consume your memory then there no issue with this program. You can freely use this software without any concern about memory usage.
TranslucentTB: Pricing:
There is no cost hindrance, you can freely use it. It is a free program. You don't need to pay anything to use its services.
Also, If you want to create cinemagraphy view of your images, Read out full review about Pixaloop | Quick Features, Various Effects & Step by Step Guide to Use It
TranslucentTB: How to Download?
There are various websites claiming to provide you the download link for the program but we recommend you to download it from the official website otherwise you might be directed towards malware sites as many of us experienced.
You can download it from Microsoft official website or you can directly download it from here: Download TranslucentTB
TranslucentTB: Cons:
Along with various features, it has some drawbacks. Have a look at them before actually installing them:
It may crash some of your features
It requires restarting often.
It gets fell away as a malicious program.
Also, Read Solid Explorer Review | File Encryption – Rich Cloud & Network Functionality
Summation:
TranslucentTB is a well-designed program that is portable and lightweight. This is basically to change the look of your window's taskbar. The article provides you complete detail about the TranslucentTB.
If you face any problem in downloading it then share with us. But before that adhere to the system requirements, otherwise it will not work properly. For any other support, you can comment in the reference section.
Frequently Asked Questions | Translucent TB
1. How do You Customize with TranslucentTB?
For doing so, follow the steps below:
Firstly, open the configuration file then click on the TranslucentTB icon.
Click on Advanced and then click on "Edit Settings" options.
From here, you can customize your taskbar, choose whatever option you like.
You will be done.
2. How do I blur the taskbar in Window 10 by using TranslucentTB?
To make your taskbar transparent in Window 10, then click on the TranslucentTB icon which you will get in the system tray. From there, select the Blur option. This will change the appearance of the taskbar to a blurry look.
3. How can I uninstall TranslucentTB?
In case, you don't like it and want to uninstall it then you can do this from Windows Control Panel or Remove Programs (Window XP) or from Program and features.
4. What is translucentTB?
It is a Microsoft open-source program that is portable and lightweight that changes the appearance of the taskbar on Windows 10. To know more about it, you can refer to the above article.
5. Is it safe to use TranslucentTB?
TranslucentTB is a Microsoft product so we can say can't doubt it much. Moreover, every program has some drawbacks, this program also has:
Requires to be restarted frequently.
Its usage may crash some of your features.