In the sphere of video editing, the software you choose can make all the difference. Today, I'm putting two of the most popular free video editing programs, OpenShot and Shotcut, head-to-head.
Whether you're an aspiring filmmaker, a content creator, or just someone looking to make your home videos more appealing, choosing the right video editing software is critical. OpenShot and Shotcut offer many features, but which will serve you best?
Imagine having a video editing tool that not only meets your current needs but also has the potential to grow with your skills and creativity. A tool that is intuitive for beginners yet robust enough for more advanced projects.
In this comparison guide, I'll dive deep into the features, performance, user-friendliness, and more of OpenShot and Shotcut.
By the end, you'll have all the information you need to decide which video editor is perfect for your creative journey.
Read on to find out more!
OpenShot Overview
Launched in 2008 by Jonathan Thomas, OpenShot is a video editor that is free and open-source and boasts compatibility with Linux, Windows, and Mac OS X. The primary aim of this project was to deliver a stable and user-friendly video editing platform.
OpenShot offers a range of features but may be slower at rendering video clips due to its older codebase compared to more recent counterparts like Kdenlive or Lightworks.
OpenShot has more features than Shotcut but is also slower at rendering video clips than Shotcut due to its older codebase compared with newer versions like Kdenlive or Lightworks, which use Qt5 instead of GTK+3 (the GUI library).
Shotcut Overview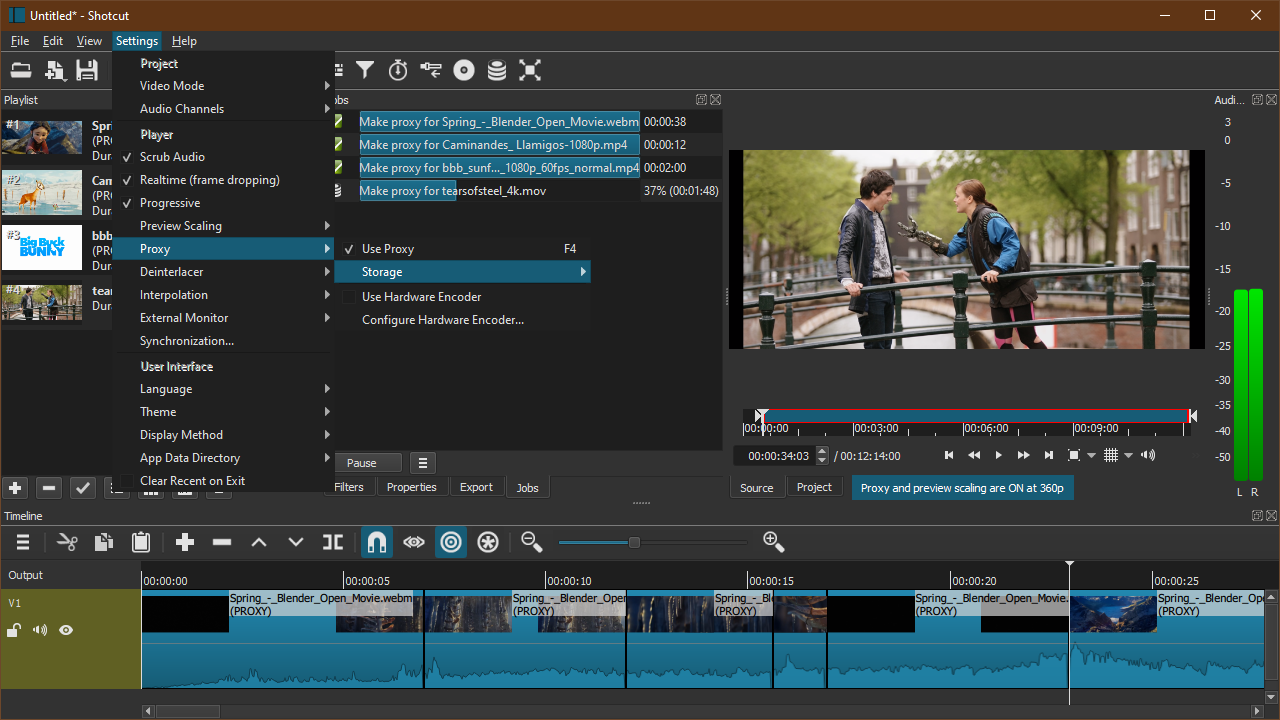 Shotcut, another free and open-source video editor, is compatible with Windows, MacOS, and Linux.
It offers a range of features, making it a compelling alternative to OpenShot, including wide-ranging format support (even 4K), and multi-language support.
Openshot vs Shotcut: User Interface
The user interface is the first thing you'll see when you open a video editor, and it can make or break your experience. Openshot uses a traditional timeline for editing, which makes it easier for beginners to pick up and start using.
Shotcut has a more modern interface with fewer options, but it also allows you more flexibility in terms of what you can do with your videos.
Both apps have an array of editing tools available—everything from audio mixing to adding titles or effects—so there's no shortage of ways to customize your videos in either program.
OpenShot and Shotcut video editors offer similar features, including transitions between clips (such as fade-ins/outs), titling options with text overlays on top of video clips (or separate text boxes), and filters like brightness and contrast adjustments.
These features allow you greater creativity over the final product before exporting it into various formats, such as MP4 or MOV, depending on the intended use for online or offline viewing.
However, additional media conversion processes may be required afterward, so it is essential to consider which editor best suits your needs.
Openshot vs Shotcut: Performance and Compatibility
Both Openshot and Shotcut are cross-platform and free. However, Openshot has been around for much longer than Shotcut and is, therefore, more stable. It also offers more features and performance than Shotcut, but it's not as easy to use.
Shotcut has a smaller user base than Openshot, so you may have trouble finding tutorials or help with it if you run into problems while editing your video projects.
However, both programs offer excellent functionality—you must decide which works best for your needs!
Editing Features: OpenShot vs Shotcut
A side-by-side comparison of the editing features of OpenShot and Shotcut, focusing on special effects, transitions, and filters:
| Feature | OpenShot | Shotcut |
| --- | --- | --- |
| Special Effects | | |
| Chroma Key | Chroma Key (Green Screen) support | Chroma Key (Green Screen) support |
| Time Effects | Slow motion, fast motion, and reverse playback | Limited time effects (no reverse playback) |
| Animation | Animation & Keyframes for scaling, rotation, and position | Limited animation support |
| Titles | 3D Animated Titles with Blender Integration | Basic text titles (no 3D support) |
| Stabilization | Not available | Video stabilization |
| White Balance | Not available | White balance adjustment |
| Audio Filters | Limited audio filters | Advanced audio filters (compressor, equalizer, etc.) |
| Transitions | | |
| Fade | Fade in/out transitions | Crossfade transitions |
| Slide | Slide transitions | Slide transitions |
| Wipe | Wipe transitions | Wipe transitions |
| Bars | Bars transitions. | Not available |
| Filters | | |
| Color Grading | Basic Brightness, Contrast, Hue, Saturation & Value | Advanced color grading with color wheels, curves, levels |
| Text | Basic text overlays | Advanced text overlays |
| Blur | Basic blur effects | Various blur effects (Gaussian, box, motion blur) |
| Old Film | Not available | Old film effects (grain, scratches, vignetting) |
Both OpenShot and Shotcut offer a range of editing features, including special effects, transitions, and filters. OpenShot has a more user-friendly interface and is suitable for beginners, while Shotcut provides more advanced options and features for professional video editing.
Openshot vs Shotcut: Support and Community
Openshot and Shotcut have strong communities that are very active. The developers of both applications are responsive to issues, which is always a good sign.
If you're looking for support in the form of email or forums, there is no shortage of options with either application. Openshot has an active mailing list and IRC channel where you can get help from other users or developers directly.
On the other hand, Shotcut has its own forum where people can ask questions about how to use the software or report bugs they've found while using it (the latter option is far more common).
Both applications also have active communities on Reddit where you can share tips and tricks and news about new releases coming out soon!
Openshot vs Shotcut: Pricing
Both OpenShot and Shotcut are open-source video editing software, which means they are completely free to use without any limitations. However, some differences exist regarding optional paid versions, donations, and other costs.
OpenShot
OpenShot is entirely free, but the developers accept donations to help support the project. You can make a one-time donation or become a monthly contributor through the OpenShot website. These donations help cover the costs of development, maintenance, and improvements to the software.
Shotcut
Shotcut is a free, open-source video editing software without any paid version. However, if you wish to support the project can make a one-time donation through the Shotcut website.
The software offers a range of features suitable for both beginners and professionals, making it a popular choice for video editing enthusiasts.
Final Verdict
In the battle between OpenShot and Shotcut, the winner truly depends on your unique needs as a video editor.
OpenShot shines with its user-friendly interface and rich feature set, making it an excellent choice for beginners and those seeking an intuitive editing experience.
On the other hand, Shotcut stands out with its advanced features and flexible interface, potentially a better fit for those with some experience or those who desire more control over their editing process.
In conclusion, both OpenShot and Shotcut have their strengths and could be the perfect tool for your video editing needs. We encourage you to try both—after all, they're free—and see which one aligns best with your editing style and the type of projects you're working on.